Picture this: a glorious union of cutting-edge technology, photo booth wizardry, and money-making magic.
It's the world of iPad photo booths — a realm where selfies meet sophistication, and your business dreams transform into reality, one tap at a time.
In this definitive guide, we'll provide you with all the knowledge you need to choose the perfect photo booth, customize it to your heart's content, and unlock the secrets to monetizing your way to prosperity.
iPad Photo Booths: Prepare to Join the 0.01% Most Informed Booth Owners on the Planet
Before we delve into the details of selecting a photo booth, let's trace out the roadmap for what you are about to read.
Why iPad Photo Booths? We'll give you the tl;dr on why you'll want to add an iPad photo booth to your photo booth arsenal.
How to select an iPad photo booth. There are a number of iPad photo booth makers. Caveat emptor! The massive array of quality among these providers means that you must pick with caution. Plus, your decision won't be based solely on the product itself, but the support that may (or may not) come with it. Pro tip: PBSCO has two entire

teams

working (almost) around the clock dedicated to helping our photo booth owners succeed. Plus, there are thousands of photo booth owners who are part of our Facebook groups.

You are welcome to join the public group

,

even if you don't own a PBSCO photo booth yet.
Customize your iPad photo booth experience. Learn the art of customization, as we unravel the secrets of branding, personalization, and creating an experience so unique that even the most camera-shy will become selfie superstars. Get ready to transform your booth into a visual feast, blending elegance, quirkiness, and all the pizzazz that will make event organizers swoon and clients queue up.
Make it rain money. Brace yourself for the holy grail of monetization techniques. We'll share advanced strategies that will leave your profit margins singing. From digital packages that generate revenue while you sleep, to partnering with influencers who will fawn over your booth like it's the latest Kardashian sighting. Prepare to watch your bank account grow as you setup, snap, rinse, and repeat with client after adoring client.
So, you're ready to dive into the captivating world of iPad photo booths, where iPads and props dance in perfect harmony, and every click is a step towards photo booth supremacy, then grab your favorite beverage, settle into your comfiest chair, and let us be your guiding light through this marvelous journey of selection, customization, and monetization.
(That sentence was too long. Sorry. Getting a bit carried away here.)
Get ready to raise your iPads high. Your photo booth empire awaits!
First, Why iPad Photo Booths?
This article is exclusively about iPad photo booths.
For purposes of focus, we're honing in on the iPad booth for now, but we do provide resources on marketing both iPad and DSLR booths.
Understanding the differences between iPad and DSLR photo booths is crucial when selecting the right equipment for your business. PBSCO offers two exceptional products: Salsa (iPad-based) and Guac & Chips (DSLR-based) photo booths.
While both options have their merits, this article delves into the advantages of marketing Salsa (iPad) booths, particularly in today's cultural and technological climate, while acknowledging the strengths of Guac & Chips (DSLR) booths.
Remember — making recommendations is all about your customer and their needs, wants, preferences, and budget. Market accordingly!
This video was captured using a Salsa iPad photo booth.
The Evolution of iPad Photo Booths
Salsa, PBSCO's iPad-based photo booth solution, represents the evolution of photo booth technology. iPads offer a sleek, compact, and user-friendly interface that appeals to modern consumers. The familiarity and ubiquity of iPads make them instantly recognizable and approachable for event attendees, facilitating engagement and interaction.
Portability and Ease of Use
One key advantage of iPad photo booths is their portability. iPads are lightweight and easy to transport, allowing for seamless setup and versatility across different event venues. Additionally, the intuitive touch-screen interface of the iPad makes it effortless for guests to navigate through the photo booth experience, resulting in a more enjoyable and streamlined process.
Versatility and Customization
Salsa photo booths offer extensive customization options, allowing for branded overlays, personalized print templates, and tailored start screens. This level of customization ensures that each event reflects the client's unique style and brand identity. The iPad's flexibility also enables quick adjustments to meet specific event requirements, making it an adaptable choice for a wide range of occasions.
Social Media Integration
In today's digital age, social media integration is paramount for successful marketing. Salsa booth helps enable social sharing by allowing you to add action items in the text or email and providing guests with an easy to share image or video. This immediate social sharing increases exposure, generates user-generated content, and expands the reach of your brand, making it a powerful tool for marketing and growing your photo booth business.
Modern Aesthetics and Appeal
The sleek and modern design of the iPad appeals to event organizers and clients who prioritize aesthetics and contemporary technology. The iPad's polished appearance aligns well with current trends and the desire for cutting-edge experiences. This visual appeal can attract more bookings and resonate with a wider range of clients, particularly those seeking a modern and sophisticated photo booth experience.
Cultural Relevance and Familiarity
iPads and other tablet devices have become an integral part of our culture and daily lives. Their prevalence creates a sense of familiarity and comfort for guests, making them more inclined to interact with the photo booth.
This cultural relevance and the widespread use of iPads create an immediate connection and positive association with the photo booth experience.
The portability, ease of use, versatility, social media integration, modern aesthetics, and cultural relevance of iPad photo booths make them an appealing choice for event organizers and clients.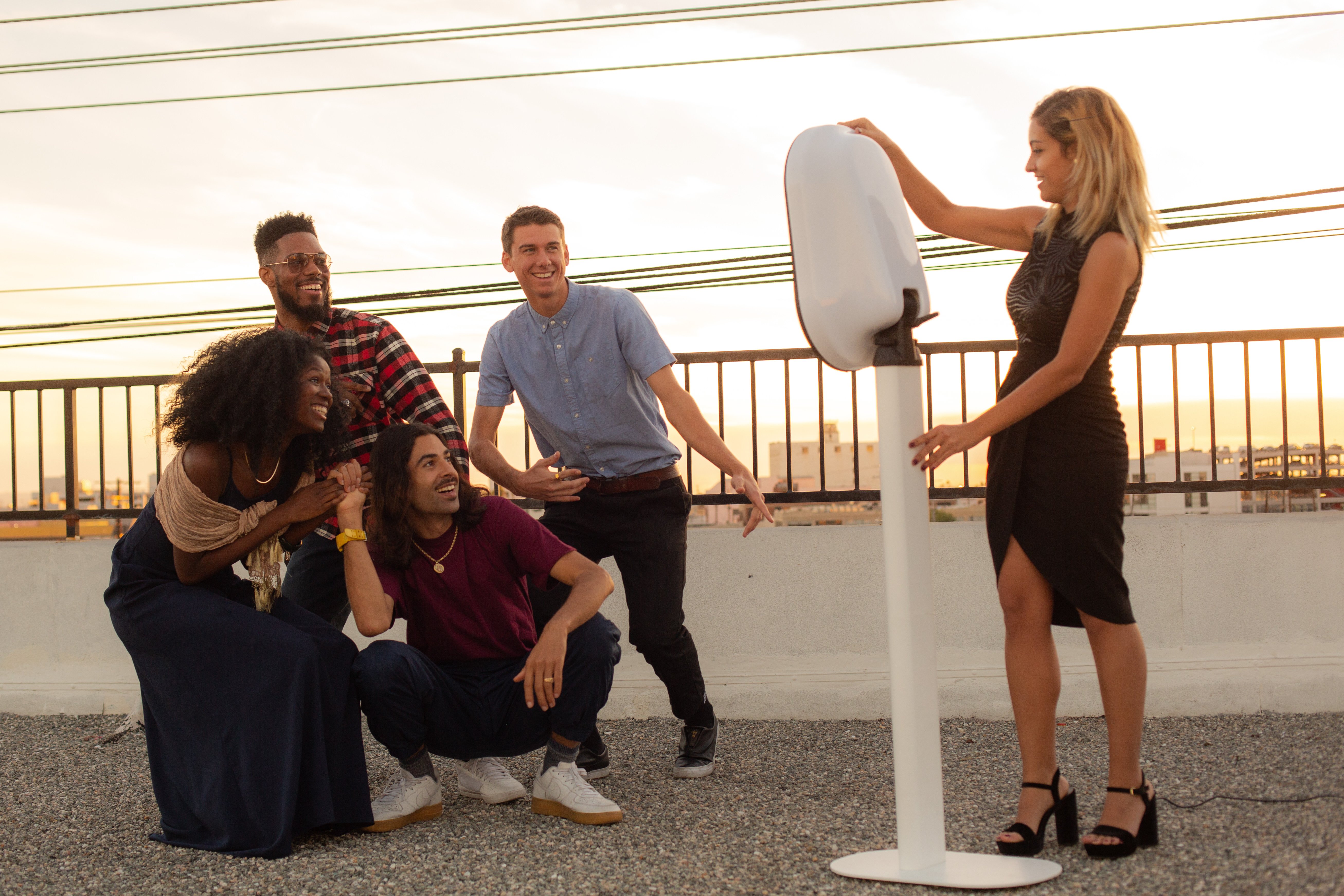 Just Starting in the Photo Booth Industry? We recommend an iPad Photo Booth.
Allow me to speak directly to those who are in the early stages of building their photo booth empire.
Start with an iPad booth.
Trust me (and other people smarter than me) on this. Allow me to explain in my characteristically numerical way.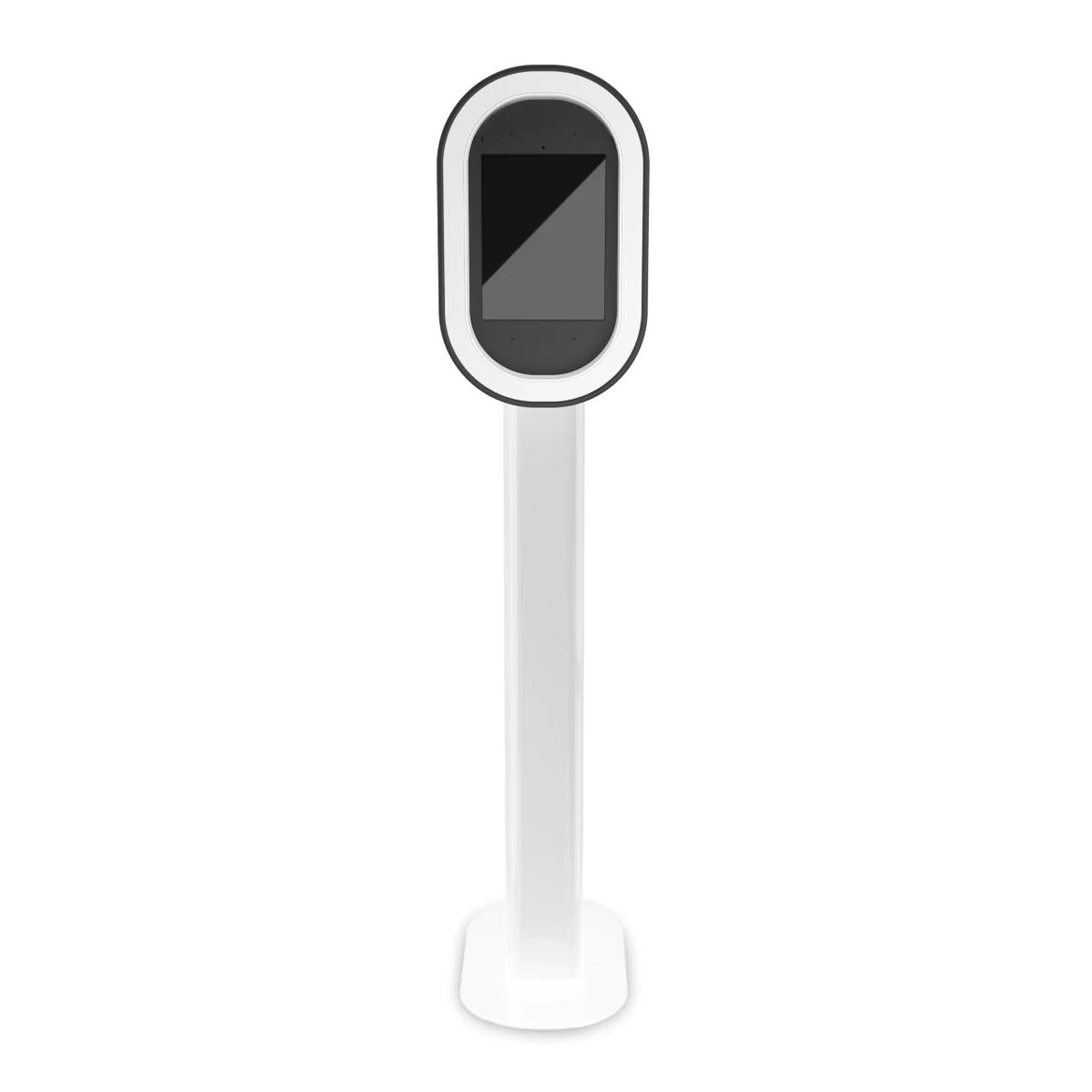 iPad Photo Booths are Very Simple to Set up and Operate
The salsa booth from PBSCO is designed with simplicity in mind. Setting it up and operating it is a breeze, even for beginners. You won't need to be a tech whiz or hire a team of experts to get it up and running smoothly.
iPad Photo Booths are Very Affordable
Starting a new business or organizing events can be financially challenging, and every penny counts. The salsa booth is the most cost-effective option.
iPad Photo Booths Offer Outstanding Quality
Just because it's cheaper doesn't mean it's lacking in quality. PBSCO takes pride in delivering top-notch products, and the salsa booth is no exception. Your customers or event attendees will enjoy a fantastic photo booth experience, capturing fun memories without any hiccups.
iPad Photo Booths are the Perfect Choice for New Photo Booth Business Owners
If you're a newbie in the photo booth business or event organizing realm, the salsa booth is an excellent choice. It's specifically designed as a great starter booth, giving you the opportunity to dip your toes into the industry without diving into a deep financial commitment right away.
PBSCO's Salsa booth is an easy, affordable, and high-quality option that caters to beginners, event organizers, DJs, and entrepreneurs looking to kickstart their photo booth business.
How to Select the Right iPad Photo Booth for Your Photo Booth Business
With the rise in popularity of photo booths at events, businesses, and personal gatherings, choosing the right equipment has become crucial. Among the myriad options available, iPad photo booths have gained significant attention due to their portability, versatility, and user-friendly interface.
However, selecting the ideal iPad photo booth requires careful consideration of various technical specifications and selection criteria.
In this section, we will delve into the key factors that should guide your decision-making process.
Here are the top five features to examine when selecting a photo booth.
iPad Model
The choice of iPad model is a fundamental aspect of selecting a photo booth. Consider the latest models with high-resolution Retina displays, as they offer superior image quality and vibrant colors. Additionally, ample processing power and RAM are necessary to handle the demands of modern photo booth software without lags or performance issues.
PBSCO's Salsa booths do not come with an iPad. We offer the flexibility for you to use your own iPad, allowing you to select the screen size, storage capacity, and version that best meet your needs. This means you can use your existing iPad if you prefer.
We recommend the 2018 and 2020 12.9" 3rd and 4th Generation iPad Pro, since Salsa's faceplate is engineered for these models If you opt for a different iPad model, you will need to purchase an additional faceplate.
Camera Quality
A high-quality camera is essential for capturing stunning images. Look for iPads equipped with advanced cameras capable of producing sharp and detailed photos, preferably with a resolution of 12 megapixels or higher.
The 2020 iPad Pro 4th gen, which we recommend, uses a 12MP wide camera that enables impressive photo capture and 4K video recording.
Lighting
Good lighting is crucial for achieving optimal photo quality. While natural lighting is preferable, built-in flash or LED ring lights can significantly enhance the photos, especially in low-light conditions.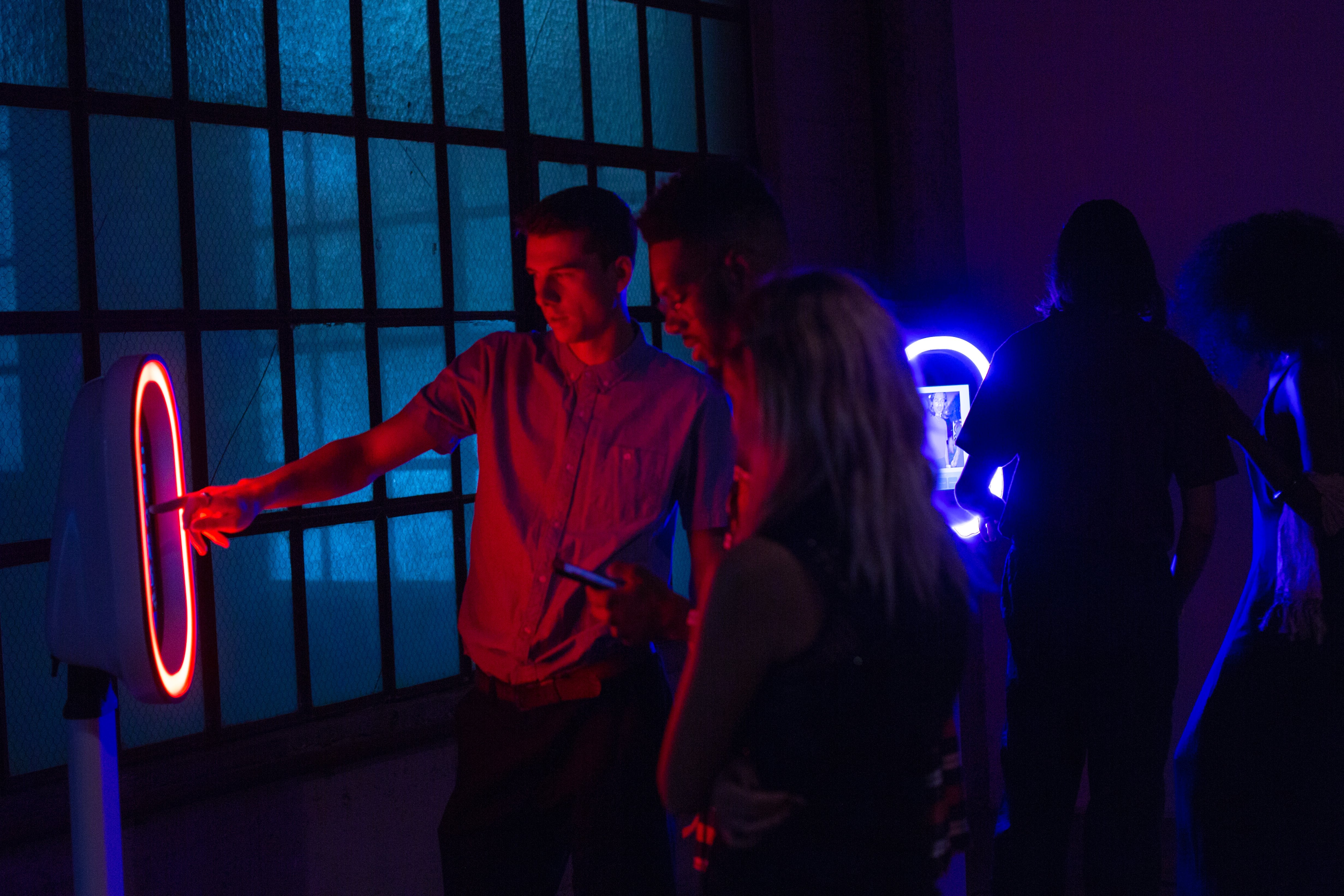 Look for iPads with well-designed lighting features to ensure that your subjects are well-illuminated and their best features are highlighted.
Because our iPad photo booths were ideated and designed by a former award-winning wedding photographer, you can be assured that we didn't skimp on the lighting.
Storage Capacity
The storage capacity of the iPad is an important consideration, especially if you plan to use the photo booth extensively or for long events.
With the Salsa app, any captures you make will be stored temporarily on your iPad before being uploaded to your Salsa account. Once the event concludes and all the captures are successfully uploaded, they will be automatically removed from the iPad, ensuring you have sufficient space for your next event.
Although iPads offer various storage capacities, starting from 64GB or 128GB and going up to 1TB, the base model storage option should be more than sufficient, especially if you intend to utilize it exclusively for event management purposes.
Battery Life
Since photo booths are often used for extended periods, ensuring sufficient battery life is crucial. Look for iPads with long-lasting batteries that can withstand several hours of continuous use without needing to be recharged.
PBSCO booths have built-in charging capabilities, so as long as your Salsa booth is plugged in and your iPad is connected, you'll never lose charge.
Selection Criteria for iPad Photo Booths
What about the other features of photo booths? Obviously, the iPad itself is important, and equally important is the booth itself.
Your iPad Photo Booth Should Feature Mobility and Portability
One of the key advantages of an iPad photo booth is its portability. Consider lightweight and compact options that are easy to transport and set up at different locations. Look for features like sturdy stands, carrying cases, and wireless connectivity options to ensure hassle-free transportation and installation.
Your iPad Photo Booth Should Have Sturdy Construction
Look for a photo booth that is built with robust materials and features a sturdy design. The booth should be able to withstand frequent use, potential bumps, and ensure stability throughout the event. This is particularly important to prevent accidental falls or damage to the iPad and other equipment.
The iPad Should Have Secure Mounting Capabilities
Ensure that the booth provides a secure and reliable mounting system for the iPad. The iPad should be firmly held in place, preventing any wobbling or risk of detachment during operation. A well-designed mounting system not only protects the iPad from accidental falls but also provides a comfortable and user-friendly experience for guests.
The iPad Photo Booth Should Offer Protective Features
Consider photo booths that incorporate protective features to safeguard the iPad from potential hazards. This may include features like reinforced corners, impact-resistant materials, or a protective enclosure that shields the iPad from accidental spills, bumps, or knocks.
It Should Be Easy to Set up Your iPad Photo Booth
While sturdiness is crucial, it's also essential to select a booth that is easy to set up and dismantle. Look for booths that offer a balance between sturdiness and ease of assembly, allowing for quick and efficient setup without compromising on stability.
The first time I used a Salsa booth, I set it up in about three minutes. After a couple attempts, I was able to assemble the booth in sixty seconds without breaking a sweat.
The person in the above video is definitively not me.
Why Choose Photobooth Supply Co for Your iPad Photo Booth Software and Hardware?
One of the benefits of purchasing your iPad photo from PBSCO is that we offer both high-quality equipment and software solutions specifically designed for entrepreneurs in the photo booth rental business.
Having the same company handling both software and hardware issues makes it that much easier for you to run your photo booth business.
Salsa Software
PBSCO's photo booth software, Salsa, is a powerful and intuitive platform that enables you to customize your iPad photo booth experience with ease.
The first time I used Salsa, I did so with my 8-year old daughter. With minimal assistance from me, she was able to make adjustments to an event, and then take photos.
Since Salsa is a web app (and iOS app), we were able to take photos using both my MacBook Air (using Virtual Booth mode) and my iPad Pro. It was quick, simple, and (most importantly), fun.
Here are some key features and benefits of using Salsa software:
User-Friendly Interface
Salsa software provides a user-friendly interface that allows you to effortlessly navigate through its various features. With its intuitive design, even those without technical expertise can easily customize and manage their photo booth settings.
Custom Branding and Personalization
Salsa software enables you to create a unique brand identity for your photo booth business. You can customize the interface, start screens, overlays, and print templates to align with your branding, making every event a personalized experience for your clients. This level of customization helps establish your brand and creates a cohesive look across all aspects of your photo booth service.
Advanced Filters and Effects
With Salsa software, you can enhance the photo booth experience by offering a wide range of filters, effects, and overlays. From vintage-inspired filters to fun augmented reality effects, Salsa software provides an extensive library of options to suit various event themes and client preferences. These features allow you to create captivating and memorable photos for your guests.
Social Media Integration
This feature increases the reach of your brand and encourages user-generated content, amplifying your online presence and attracting potential clients.
Analytics and Data Insights
Understanding the performance of your photo booth business is essential for growth and improvement. Salsa software offers comprehensive analytics and data insights, allowing you to track metrics such as session duration, popular filters, social media engagement, and customer demographics. These valuable insights can help you make informed decisions, refine your marketing strategies, and optimize your services.
Dedicated Customer Support
PBSCO is renowned for our exceptional customer support. Our team is readily available to address any technical issues, provide guidance, and assist with customization requests. This level of support ensures that you have a reliable partner throughout your photo booth journey.
Monetizing Your iPad Photo Booth to the Max
The most important thing we do as a business at PBSCO is make you — photo booth business owners, event planners, photographers, DJs, entrepreneurs — wildly successful.
To be clear, it's not entirely altruistic. Cliche as it may sound, we succeed when you succeed.
In the video below, these real, honest, unpaid photo booth business owners truly and really make money — a lot of money — using our photo booths and software.
As a photo booth owner, effectively monetizing your iPad photo booth is essential for maximizing your business's profitability. With the right marketing strategies and a focus on iPad-specific techniques, you can attract clients, increase bookings, and create additional revenue streams.
In this final section, we'll explore advanced marketing tips specifically tailored to iPad photo booth owners, highlighting the unique advantages they offer compared to DSLR photo booths.
Be sure to check out Cat's helpful article and video regarding marketing the two types of booths.
Emphasize iPad's Portability and User-Friendly Experience
One of the key advantages of iPad photo booths is their portability and ease of use. Highlight these features in your marketing efforts, emphasizing how your iPad photo booth can seamlessly integrate into any event, both indoors and outdoors.
I've carried our photo booths up and down escalators, elevators, trade show floors, hotel rooms, sidewalks, cargo vans, and just about everywhere else. The booths are consistently, relentlessly portable and easy to use.
Create iPad-Specific Marketing Collateral
Design marketing materials that showcase the sleek and modern design of the iPad photo booth. Create visually appealing brochures, flyers, and online banners that highlight the iPad's aesthetics and its ability to provide a fun and interactive photo booth experience. Leverage iPad-related imagery and icons to create a cohesive and iPad-centric brand identity.
Leverage Social Media and Online Presence
Utilize social media platforms to promote your iPad photo booth. Showcase captivating photos taken with your booth, highlighting its capabilities and the unique experiences it offers. Encourage guests to tag themselves and share their photos, expanding your reach organically. Additionally, optimize your website for mobile devices, ensuring a smooth browsing experience for potential clients who visit your site on their iPads.
Offer Customized Digital Photo Packages
Consider offering digital photo packages as an additional revenue stream. Provide clients with the option to receive digital copies of their photos directly to their email or through a personalized online gallery. This allows them to easily access and share their memories while generating extra income for your business.
Collaborate with Influencers and Event Planners
Partnering with influencers and event planners can significantly boost your visibility and bookings. Identify influencers with a relevant audience and collaborate on events or sponsored posts where they can promote your iPad photo booth. Likewise, establish relationships with event planners who can recommend your services to their clients, leading to potential long-term partnerships.
Offer Branded Photo Experiences Develop partnerships with businesses or brands looking to enhance their presence at events. Customize your iPad photo booth experience to incorporate their branding elements, such as logos, colors, and themes. This not only creates a unique and immersive experience for event attendees but also presents opportunities for sponsorship or cross-promotion.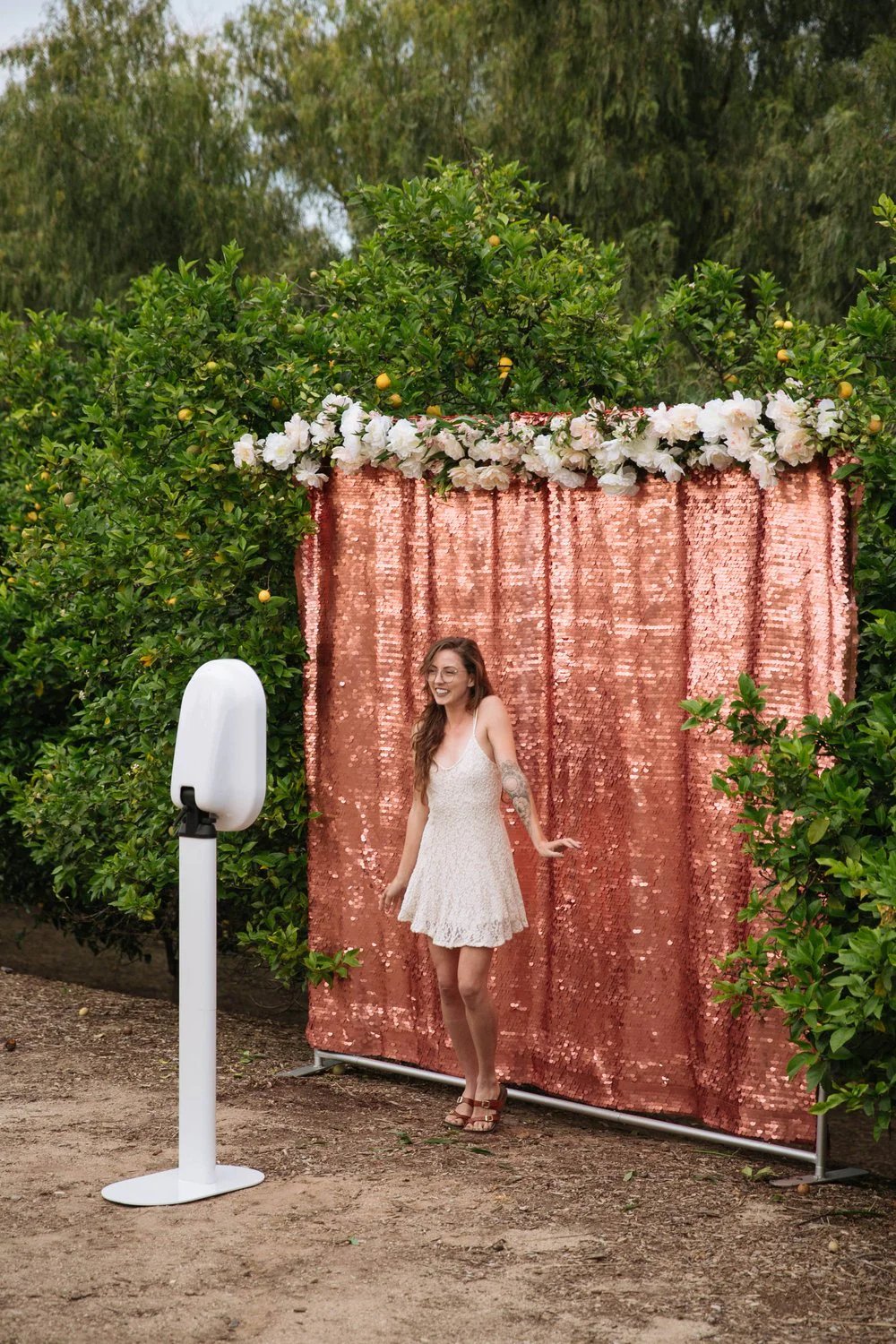 Conclusion
Effectively marketing and monetizing your iPad photo booth requires a combination of tailored strategies and leveraging the unique advantages of the iPad.
By emphasizing portability, user-friendliness, and the ability to offer customized digital packages, along with leveraging social media, collaborations, and QR code marketing, you can attract clients, increase bookings, and create additional revenue streams.
Embrace the sophistication and versatility of iPad photo booths to set your business apart and thrive in the competitive photo booth industry.