This article unlocks the steps to becoming the go to wedding photo booth business in your community.
Wedding photo booth rentals are one of the most lucrative niche in the photo booth industry, so this article will help you to unlock massive amounts of revenue for your photo booth business.
Here's What You Need to Know about This Wedding Photo Booth Guide
If you are a photo booth owner or have an interest in starting a photo booth business, I wrote this article for you.
More specifically, I wrote it for existing and potential wedding photo booth businesses. More on that in the next section.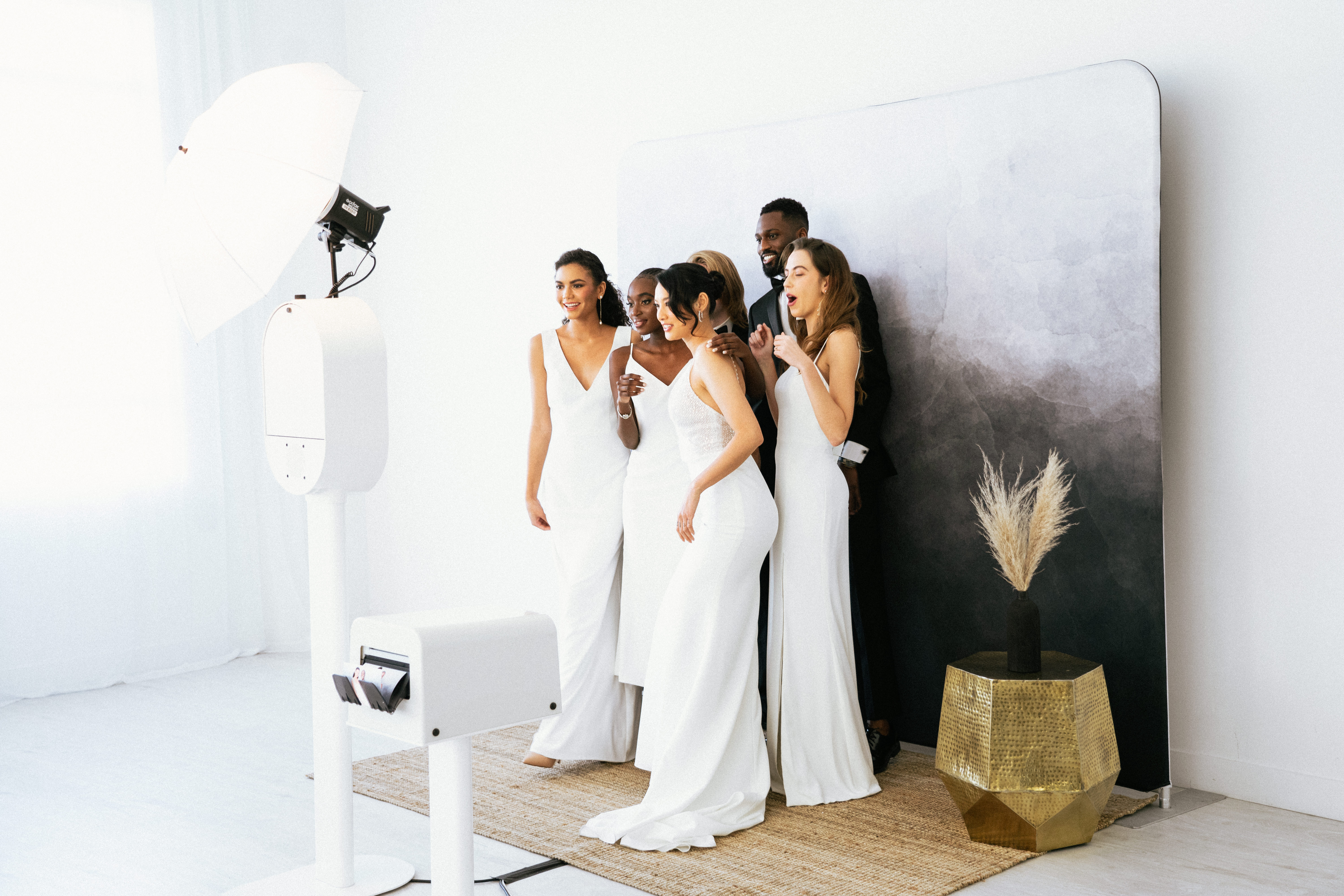 Implementing The Tactics in This Article
Implementing the photo booth strategies in this article can be days, weeks, months.
Consider this the master class of running a top-tier wedding photo booth business. Once you read it through, you'll have more information and tactics on running a successful wedding photo booth business than 95% of photo booth owners.
You'll notice that I include a lot of numbered lists. I do so in order to provide a easy and sequential way to follow the steps for each point. Don't feel like you have to address every single point in any given list.
Hop in, buckle up, and hang on.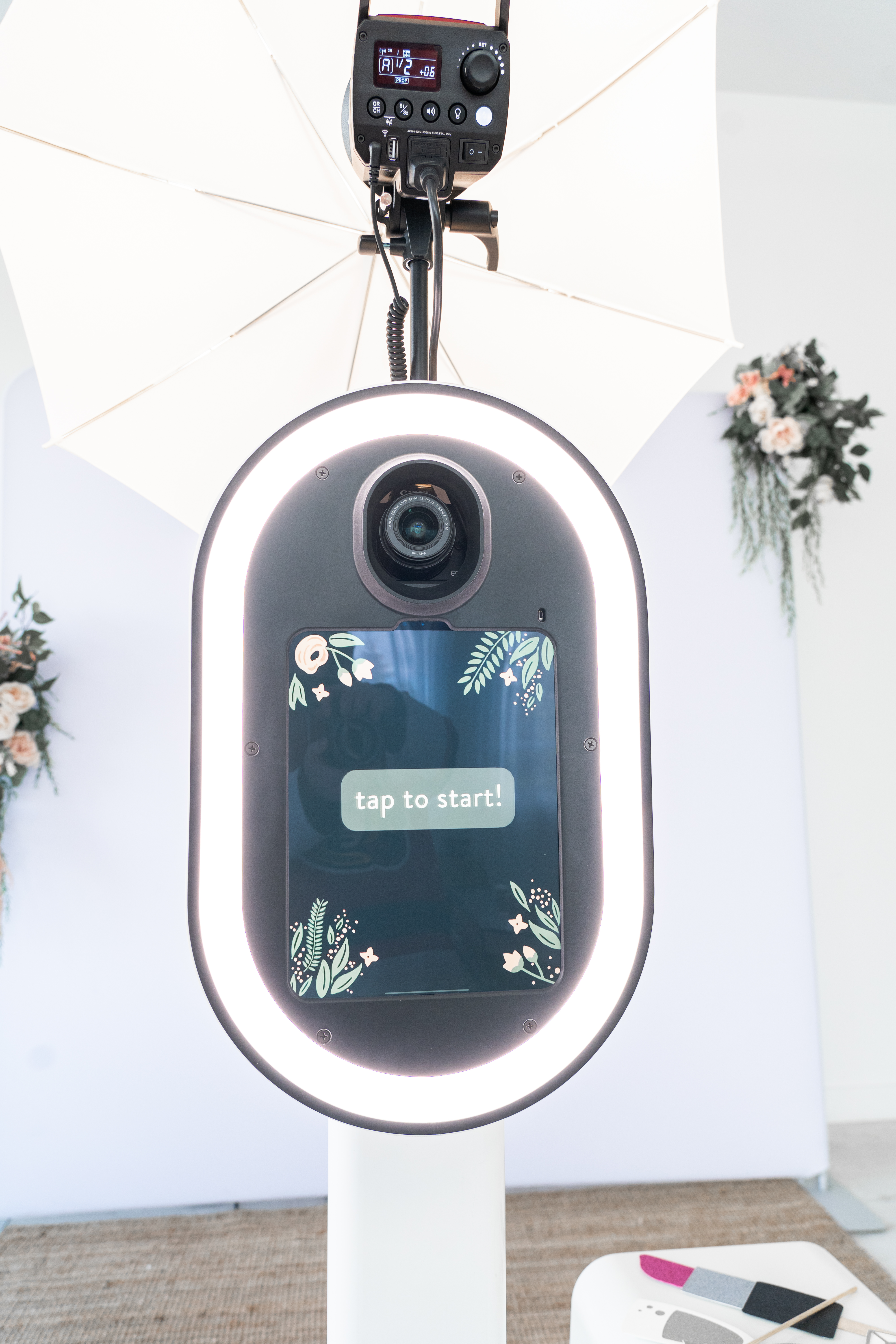 The Journey Ahead
This article takes you on a soup-to-nuts journey of launching a wildly successful wedding photo booth business.
Chances are, you already have a photo booth business and want to take it to the next level.
If this is you, read on. You may able to skip over some of the preliminaries such as curating your website for weddings, and booking events and go to some of the more advanced topics later on in the article.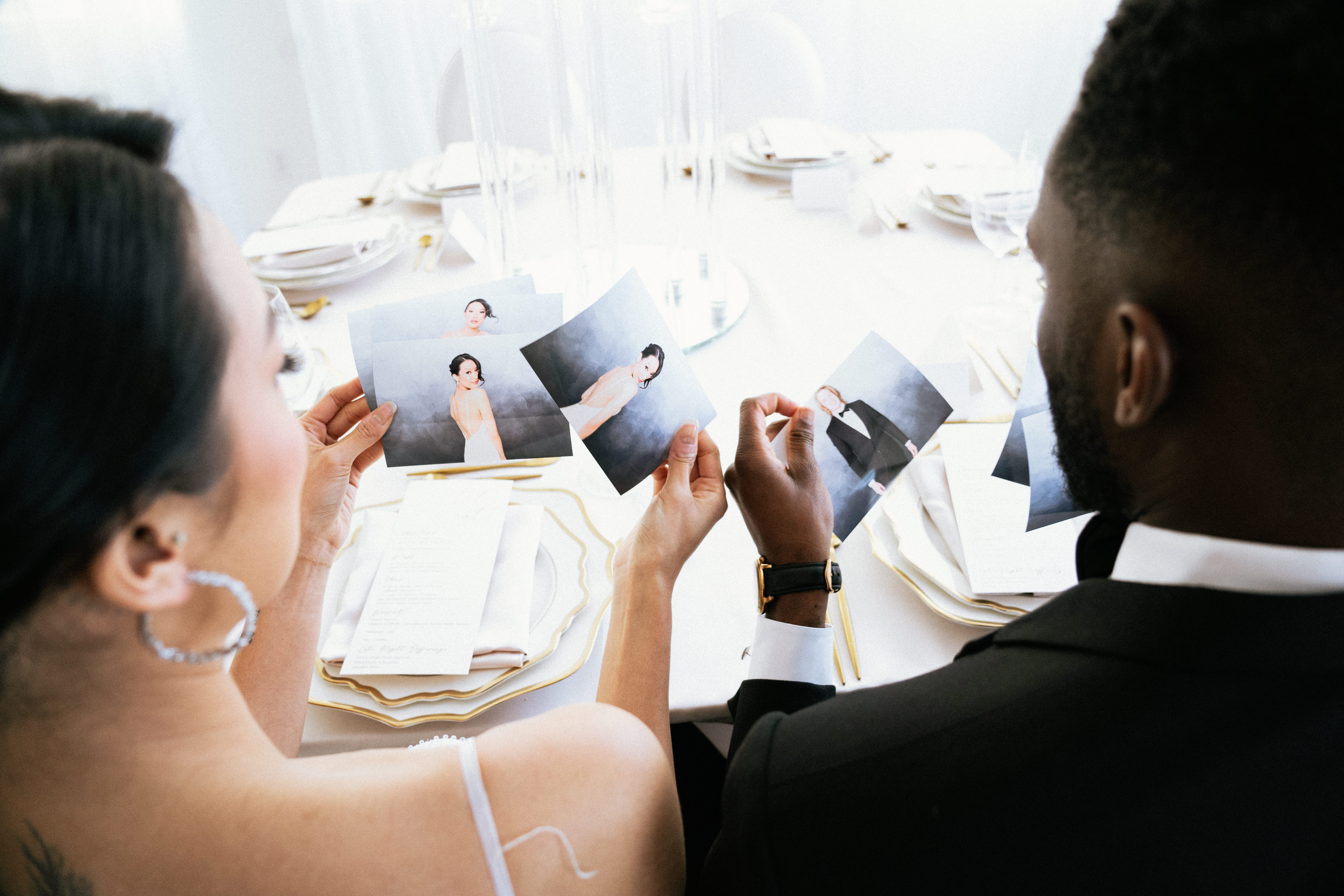 Wedding Photo Booths: Why You Probably Should Get Into the Market…Now
Sixty billion dollars.
That's how much the wedding industry in the U.S. is worth right now. And, yes, a huge portion of that cash vault is dedicated to you, my wedding photo booth owner friend.
Couples are spending more than ever to create the perfect day.
On average, a photo booth rental for a wedding can bring in anywhere between $600 to $1500 per event, depending on the package and add-ons you offer. That's some serious cash.
And here's the best part: the wedding industry is one of the most recession-proof industries out there, which means you can expect a steady stream of income year-round.
Plus, the wedding photo booth business has a low overhead cost compared to other businesses. You can start with just one booth and gradually scale up as you grow your business. And with the right marketing strategies, you can easily reach your target audience and book more events than you can handle.
Check these stats about photo booths at weddings.
According to a survey conducted by The Knot, 81% of couples who got married in 2019 included a photo booth at their wedding reception.
The same survey also found that photo booths are the second most popular form of wedding entertainment, behind only music/DJ services. (Source: WeddingWire)
The average cost of a photo booth rental for a wedding is $600 to $1500, depending on the package and add-ons offered. (Source: WeddingWire)
According to The Wedding Report, there were over 2.2 million weddings in the United States in 2019. In 2022, the number of weddings soared to a whopping 2.4 million. Yes, there is a vast market for wedding photo booth businesses.
These stats highlight the growing popularity of photo booths at weddings and the potential market for wedding photo booth businesses. As a wedding photo booth business owner, you can tap into this demand and offer your services to couples looking to create a unique and memorable wedding experience for themselves and their guests.
Just think about it, with an average of 2.2 million weddings in the US each year, the earning potential is truly limitless. And that's not even counting the additional revenue streams you can tap into, like corporate events, birthdays, and other special occasions.
So if you're looking for a profitable business with low overhead costs, a steady stream of clients, and the potential for massive earnings, then the wedding photo booth business is the way to go.
As the facts above show, photo booths have become an essential part of every wedding celebration.
All that remains is for you to follow the steps and unlock the cashflow.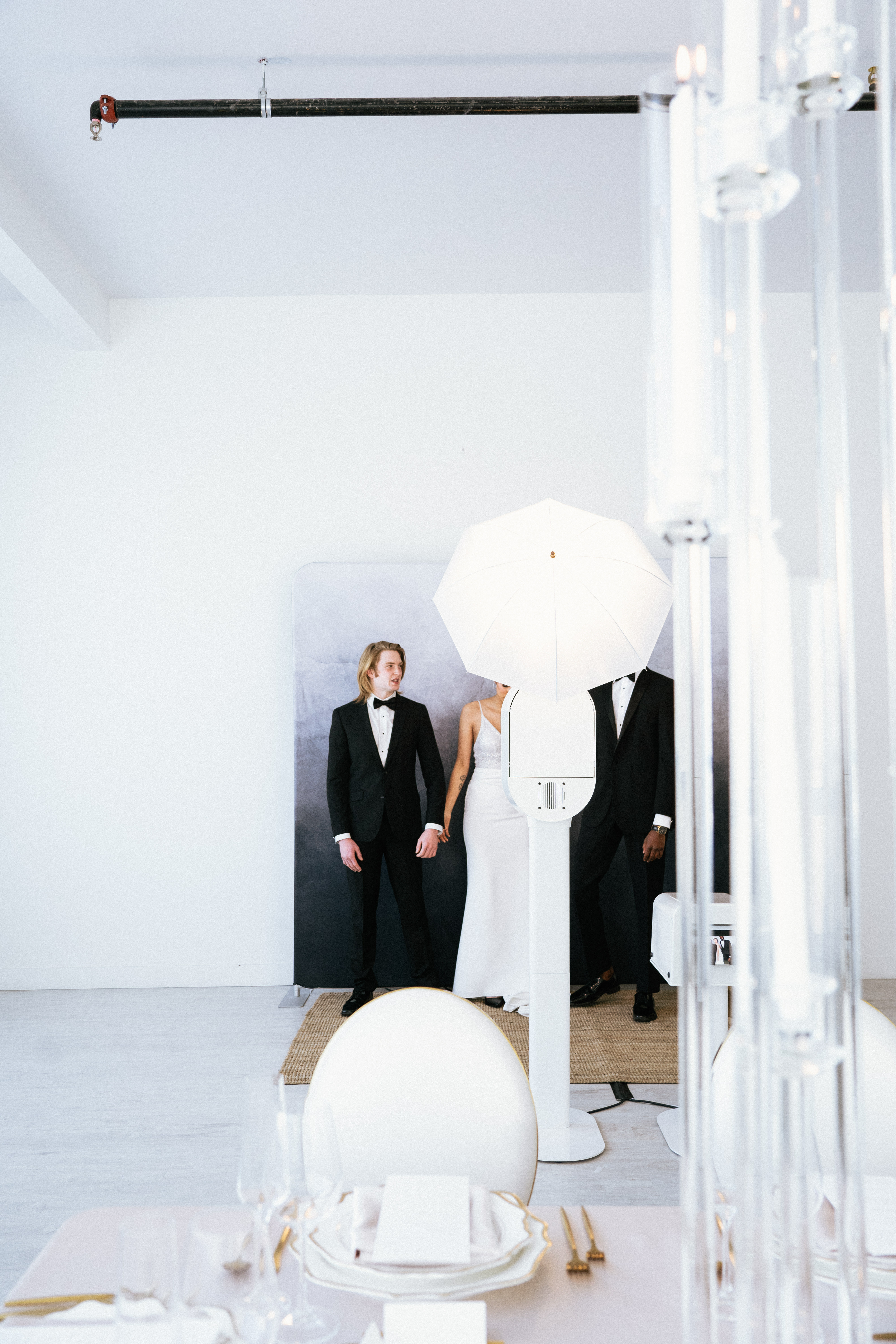 Understanding the Wedding Photo Booth Business Market
A healthy way to launch your foray into the wedding photo booth business is to understand the lay of the land — figure out where, when how couples are tying the knot, and the best angle for you to introduce your services into the wedding photo booth industry.
Here are some tactical insights for understanding the wedding photo booth industry in your area.
Pro tip: You're going to want to take notes. A lot of what I'm sharing below is intense information-gathering — researching the cost of a wedding, identifying the top 3-5 wedding planners or wedding photo booth businesses in the area, etc.
Write this stuff down. It will serve you later.
Analyze the demand for wedding photo booth services in your local area.
Analyzing the demand for wedding photo booth services in your local area is crucial to determine the potential success of your business. Here are the steps to follow:
Research your local wedding industry: Look into the number of weddings that take place in your area every year. Check out local wedding publications and websites to get a sense of the popularity of photo booths in your area.
Analyze your competition: Identify other photo booth rental companies in your area and research their packages, prices, and services. Determine how you can differentiate your business from theirs and offer something unique to attract clients.
Attend wedding fairs and expos: These events are an excellent opportunity to meet other wedding vendors and talk to couples about their preferences for photo booth rentals. Gather information about what couples are looking for and what they are willing to pay.
Conduct surveys: Conduct surveys to gather insights about your target audience's preferences and needs. You can post your survey on social media platforms, wedding forums, or even in-person at wedding fairs and expos.
Analyze social media engagement: Take a look at social media platforms like Instagram and Facebook to see how many people are posting photos from wedding photo booths in your area. This can give you a good indication of the popularity of photo booths in your local market.
Talk to local wedding planners and venues: Reach out to local wedding planners and venues to get a sense of the demand for photo booth services in your area. They can also provide you with valuable insights into what couples are looking for and how you can stand out in the market.
Most of this data is just a google search away. Let me show you how I started.
I simply googled "how many weddings take place in greenville south carolina every year." (That's where I live.)
Behold, the answer is right there – 3,554.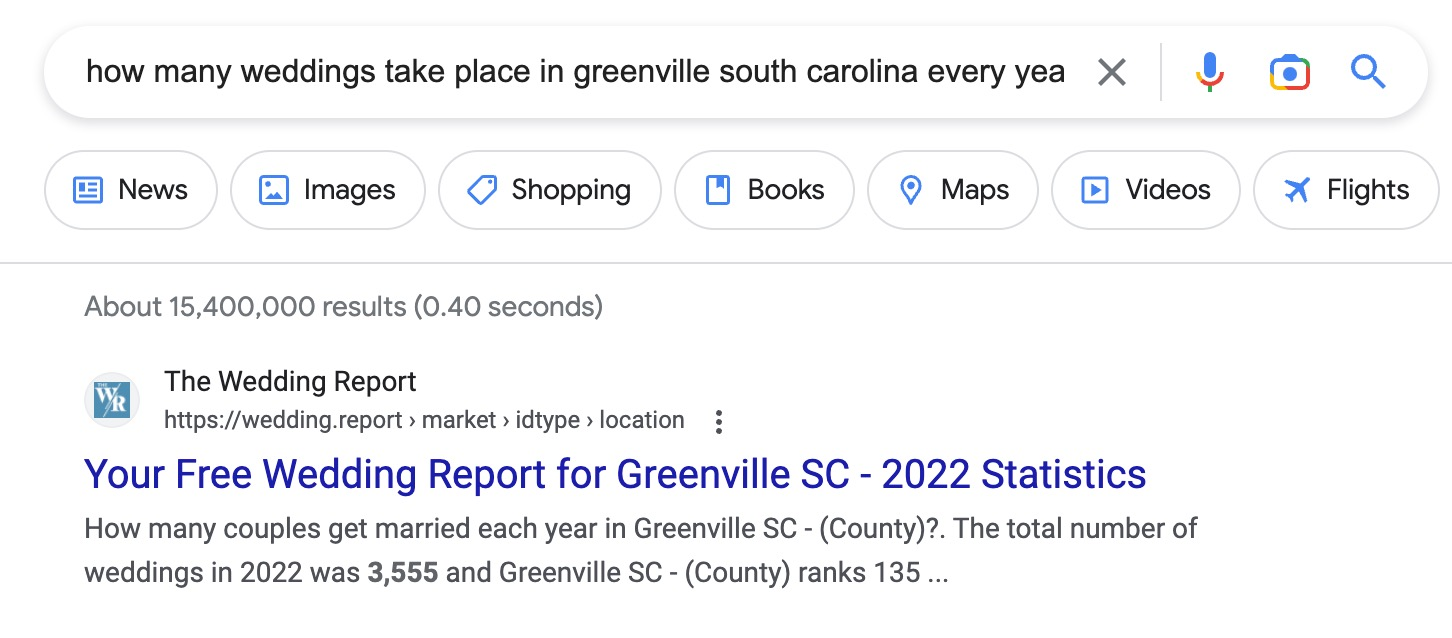 Ooh, this is a great resource, because it tells me even more crucial information that can serve my wedding photo booth business.
Take a look — the average wedding cost in 2022 was $32,800. Obviously, this data suggest how much couples may be likely to spend on services like a wedding photo booth rental or two.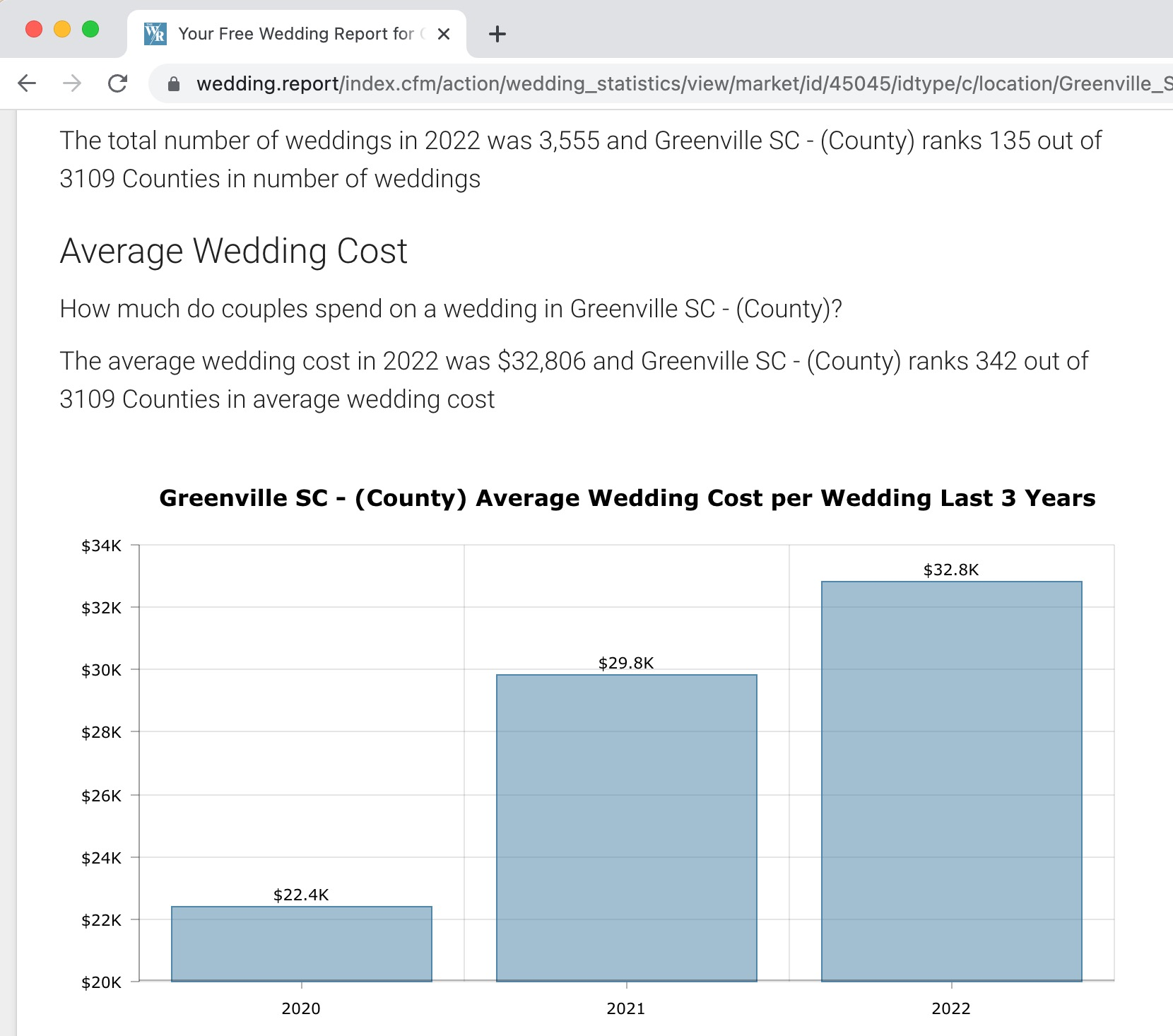 The information is free for the googling.
By analyzing the demand for wedding photo booth services in your local area, you can determine if there is a viable market for your business. You can also gain valuable insights into what your target audience is looking for, allowing you to tailor your services to meet their needs and preferences.
Remember, it's essential to stay up-to-date on trends and preferences in the wedding industry to remain competitive and meet the evolving needs of your clients.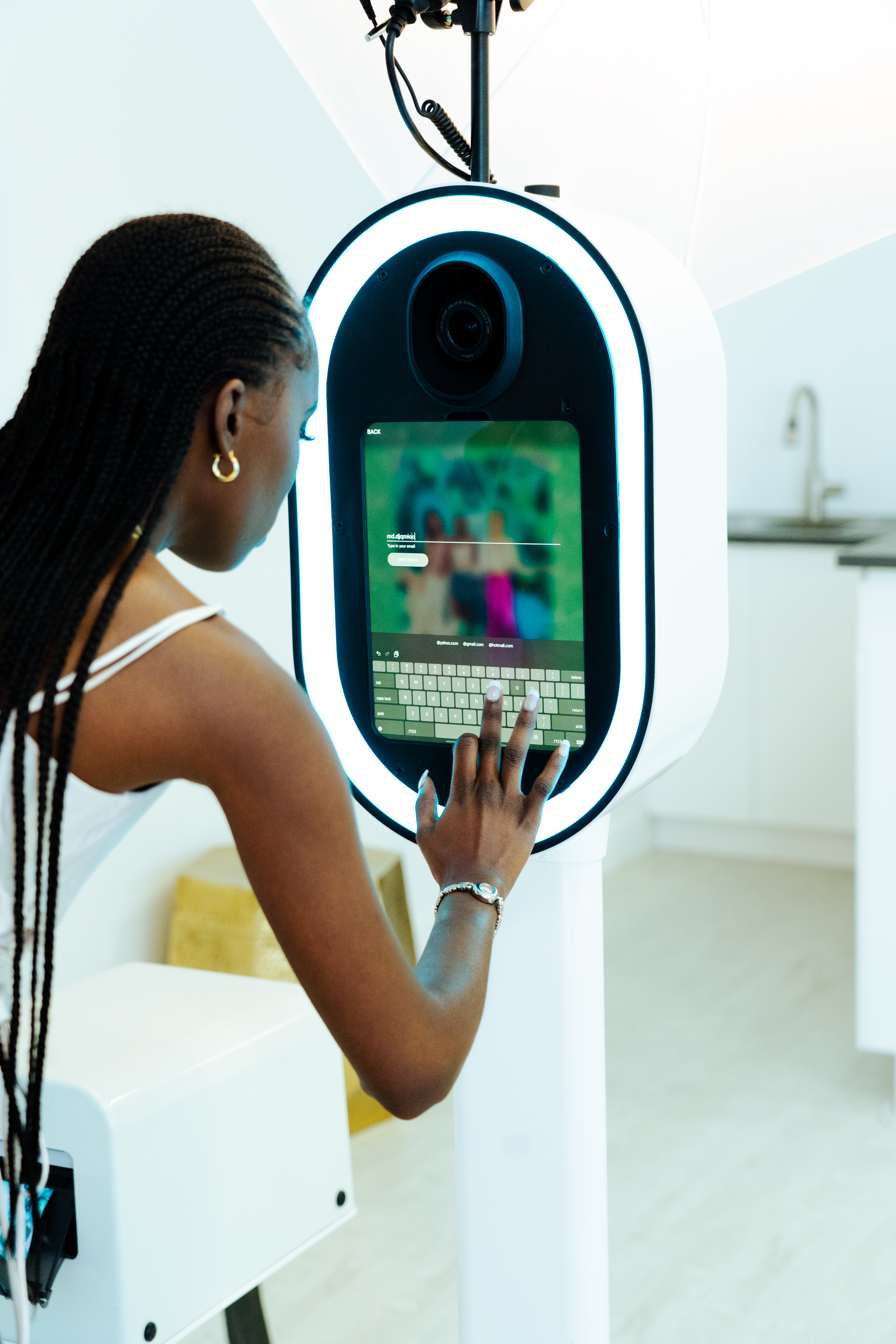 Identify your competition and evaluate their strengths and weaknesses.
In this phase, you are going to become a student of the competition.
Remember, the idea is not to become some onerous presence in the community as you rise to the heights of wedding photo booth business stardom.
Befriend these owners if possible, but keep your ear to the ground. Your knowledge of the competition will inform how you operate almost every angle of your business.
Research online: Start by searching for wedding photo booth companies in your local area and neighboring cities. Look at their websites, social media pages, and reviews to see what types of services they offer, their pricing, and how they market themselves.
Attend bridal shows: Yes, I mentioned it above, and yes, I'm doing so again. You'll want to get season passes to your local wedding expo and bridal shows. This is where the glitz, the innovation, the movers, the shakers come together on one trade show floor. Bridal shows are a great place to scope out your competition and see their wedding photo booths in person. Take note of how they present themselves, their booth designs, and what types of props and backdrops they use.
Network with other wedding vendors: Attend networking events and build relationships with other wedding vendors, such as photographers, DJs, and event planners. These vendors may have worked with other photo booth companies and can provide valuable insights into the industry.
Mystery shop: Pretend to be a potential customer and contact your competitors to request quotes and ask about their services. This can give you an idea of their pricing and how they interact with potential clients.
Analyze their marketing strategies: Look at how your competitors are marketing their services. Are they using social media advertising, email marketing, or other tactics? What types of messaging and imagery are they using to appeal to their target audience?
Once you've identified your competition, it's time to evaluate their strengths and weaknesses. Here are some advanced tactics to help you with this process:
SWOT analysis: Conduct a SWOT analysis of your competitors. This involves identifying their strengths, weaknesses, opportunities, and threats. For example, a competitor's strength may be their extensive prop collection, but their weakness may be their outdated photo booth technology.
Analyze their customer reviews: Read through your competitors' customer reviews to see what their clients liked and disliked about their services. This can give you an idea of areas where you can differentiate yourself and offer a better experience for your clients.
Evaluate their pricing: Compare your competitors' pricing to your own. Are they offering more or less value for the same price? If they're charging more, what extra features or services are they offering that you're not?
Assess their equipment and technology: Evaluate your competitors' photo booth equipment and technology. Are they using the latest and greatest equipment, or is their technology outdated? If they're using older equipment, you may be able to differentiate yourself by offering newer technology that produces higher-quality photos.
By identifying your competition and evaluating their strengths and weaknesses, you can position your wedding photo booth business for success. Use this information to differentiate yourself and offer unique services that set you apart from your competitors.
Determine your unique selling proposition (USP) and how you can stand out in the market.
I realize this is biz school 101, but it's worth revisiting this exercise if it's been a while since you have done so.
A unique selling proposition (USP) is a statement that explains what makes your business unique and why customers should choose you over your competitors. Developing a strong USP is important for any business, including a wedding photo booth business, because it helps to differentiate you in the market and communicate the value you offer to potential customers.
Here are some steps to help you come up with a unique selling proposition for your wedding photo booth business:
Identify your target market: Before you can develop a USP, you need to understand who your target market is. Who are the couples that are most likely to book your photo booth for their wedding? What are their needs, desires, and pain points?
Understand your competition: Look at what other wedding photo booth businesses in your area are offering. What are their USPs? How are they differentiating themselves in the market? Understanding your competition can help you to identify gaps in the market that you can fill.
Identify your unique strengths: Take stock of your own strengths as a wedding photo booth business. What sets you apart from your competitors? Do you have a particularly large or unique prop collection? Do you offer high-quality prints or digital copies of photos? Do you have a particularly engaging or interactive photo booth experience?
Articulate the benefits: Once you've identified your unique strengths, think about the benefits that these strengths provide to your customers. For example, if you have a large and unique prop collection, the benefit to your customers may be that they can have more fun and creative photos at their wedding.
Develop your USP statement: Use the information you've gathered to develop a clear and concise statement that communicates your unique selling proposition. Your USP should be something that sets you apart from your competitors and resonates with your target market. For example, your USP statement could be: "Our wedding photo booth offers a unique and interactive experience that will create unforgettable memories for you and your guests."
Test your USP: Once you've developed your USP, test it out with potential customers and see how they respond. Ask for feedback on whether they feel that your USP sets you apart from your competitors and resonates with their needs and desires.
Remember, a strong USP is not just a statement, but a reflection of the value you offer to your customers. Make sure that your USP is reflected in every aspect of your business, from your marketing materials to your photo booth experience, to truly differentiate yourself in the market and attract more customers to your wedding photo booth business.
Here are five examples of strong unique selling propositions (USPs) for a wedding photo booth business:
"Our wedding photo booth offers a fully customizable experience, allowing you to design your own photo templates, backdrops, and props for a truly personalized touch."
"Our wedding photo booth includes a social media sharing feature, allowing you and your guests to instantly post your photos to Instagram, Facebook, and Twitter."
"Our wedding photo booth uses high-quality DSLR cameras and professional lighting equipment, ensuring that your photos will be crisp, clear, and beautifully lit."
"Our wedding photo booth includes a live slideshow display, showing a real-time feed of photos from your wedding so guests can see and share all the fun moments."
"Our wedding photo booth comes with an experienced and friendly photo booth attendant who will assist your guests and ensure that everyone has a great time."
These USPs all highlight different aspects of the photo booth experience and offer unique benefits to customers.
Don't just copy and paste, though. Determine what your unique angle is, and go from there.
Planning Your Wedding Photo Booth Business
You've done your homework.
You've unearthed information about the local wedding industry.
You've investigated the details of competitors in the wedding photo booth industry.
Hopefully, you've even created your own USP.
Now, let's do some more wedding photo booth business planning.
Develop a business plan that outlines your goals, target audience, marketing strategies, and financial projections.
It's certainly okay to skip over this section. Some very successful photo booth business owners don't spend a ton of time on outlining a business plan.
I have included it, however, because it is a strong piece of research to have in your arsenal, especially if you are just starting out.
A well-written business plan will help you to clarify your goals, identify your target audience, plan your marketing strategies, and forecast your financial projections. Here are the key steps to developing a wedding photo booth business plan:
Executive Summary: Start with an executive summary that provides an overview of your business, its goals, and its target audience. This section should be concise, yet informative, and should give readers a clear understanding of your business and its purpose.
Business Description: Describe your wedding photo booth business in detail, including the types of services you offer, your unique selling proposition (USP), and your competitive advantages. This section should also include information on your business structure, ownership, and management.
Market Analysis: Conduct a thorough market analysis to identify your target audience and assess the competition. This section should include information on the size and demographics of your target market, as well as an analysis of the competitive landscape, including strengths, weaknesses, opportunities, and threats.
Marketing Strategies: Outline your marketing strategies for attracting and retaining customers. This section should include information on your branding, advertising, social media, and public relations efforts, as well as any promotional campaigns or partnerships you plan to pursue.
Operations Plan: Describe your operations plan, including information on the equipment and technology you will need to operate your wedding photo booth business. This section should also include information on staffing, training, and day-to-day operations.
Financial Projections: Develop financial projections for your wedding photo booth business, including income statements, balance sheets, and cash flow statements. This section should also include information on start-up costs, revenue streams, pricing, and profitability.
Conclusion: Conclude your business plan with a summary of your goals and strategies
Here is something you may want to copy and paste — an outline of what your wedding photo booth business plan might include.
Executive Summary

Brief overview of the business idea, goals, and target market
Financial projections and funding needs

Business Overview

Description of the wedding photo booth service and how it works
Competitive analysis of other photo booth companies in the area
Target market and customer demographics

Marketing and Sales Strategy

Pricing strategy and packages offered
Advertising and promotional tactics (e.g. social media, wedding expo participation)
Sales forecast and customer acquisition plan

Operations and Management

Equipment and supply needs
Staffing requirements and training
Booking and scheduling procedures

Financial Plan

Start-up costs and funding sources
Revenue and expense projections
Break-even analysis and profitability targets

Conclusion
Summarize key points and reiterate business goals and objectives
Remember that each business plan will vary depending on the individual company, its goals, and its market, so this is just an example outline to get you started.
Determine your pricing strategy and packages to offer to customers.
Here's where researching your competitors can really help. '
A lot of new photo booth owners go into this conversation clutching their pearls with concern and worry – too high? too low? how much?
Relax. I'm going to provide you with a lot of information to consider, but at the end of the day, here's the rule of thumb for wedding photo booth pricing.
Offer the going rate.
Sure, you may be able to raise your rates at some point, but ensure that you have a USP that justifies the price point.
You may think that entering the market at a low price point is strategic. "Look! I'm just starting out, so you don't have to pay as much!"
Let me caution you against that approach.
Pricing is very much a value perception game, meaning that people look at your service in light of how much your service costs.
If you come in, lowballing the competition, your customer may wonder why are they so cheap? Maybe they are a lower value alternative.
Come in at market price, and you'll be fine.
Let's go into some detail on wedding photo booth pricing.
Research your competition: Check out what other wedding photo booth businesses in your area are charging for their services. Look at their package offerings and see how they differ from yours. This will help you understand the market and identify potential gaps that you can fill.
Consider your costs: You need to understand the costs involved in running your business, including equipment, supplies, labor, insurance, and any other expenses. Determine your break-even point and factor in a reasonable profit margin.
Define your packages: Once you have a sense of your costs and the competition, define your packages. Consider offering different levels of service at different price points. For example, you might offer a basic package that includes the photo booth rental and prints, and then add on additional services like a custom backdrop, props, and social media sharing options for an additional fee.
Price your packages: Determine the prices for each of your packages. Keep in mind that your prices should be competitive with other photo booth businesses in your area while also covering your costs and earning a profit. Make sure to clearly outline what is included in each package so that customers can easily compare options.
Here are some examples of pricing strategies and packages for a wedding photo booth business:
Hourly Rate: The simplest pricing strategy is to charge an hourly rate for the photo booth rental. The hourly rate can vary based on the number of hours rented and the day of the week.
Flat Fee: Another pricing strategy is to charge a flat fee for the entire event. This can be an attractive option for clients who want the photo booth for the entire duration of the event.
Packages: You can offer different packages based on the number of hours, the number of prints, and the type of props or backgrounds available. For example, you could offer a basic package that includes two hours of rental time, unlimited prints, and a standard backdrop, and then offer additional upgrades for clients who want more features. This is a feature that you may want to offer once you've done some networking and made some good business connections in your area.
Customization: Another pricing strategy is to offer customized packages based on the client's specific needs. This could include adding additional hours, customizing the backdrop, or offering additional prints.
Bundling: You can also offer a bundle package that includes both a photo booth and a photographer. This can be an attractive option for clients who want to capture both candid and posed shots at their event.
Add-Ons: Finally, you can offer add-ons such as customized props or guestbooks for an additional fee. These add-ons can help you differentiate your business from competitors and provide more value to clients.
It's important to keep in mind that pricing strategies will vary depending on your target market, location, and competition. Be sure to do market research and test different pricing strategies to find the one that works best for your business.
Here are some rough estimates for standard rates for wedding photo booth rentals in the United States:
Hourly rate: The average hourly rate for a wedding photo booth rental is typically between $150 to $400 per hour.
Flat fee: Some companies offer a flat fee for a certain number of hours, such as $800 for a four-hour rental period.
Packages: Many wedding photo booth rental companies offer packages that include a certain number of hours and services. Packages can range from $500 to $7,500 or more, depending on the level of service and customization required.
Add-ons: Additional services or features, such as custom backdrops, social media sharing, or printed photo albums, can add to the overall cost of the rental. Prices for add-ons can range from $50 to $500 or more, depending on the service.
Choose the right equipment, software, and props to create an unforgettable photo booth experience.
There are four main categories you'll need to make purchases in.
Your photo booth or booths, plural, if you can afford it. This is a significant upfront investment that you won't need to replace for 5-10 years or longer. In this category of booths, we're including the whole package — booth, iPad, DSLR, printer, etc.
Photo booth backdrops suitable for weddings. Reusable backdrops are ideal. This is also a one-time investment. Backdrops can be added as needed, and of course damaged backdrops should be recycled and replaced.
Wedding photo booth props. The props you choose may be set by your customer, but it's helpful to have some on hand and ready to produce should the customer ask.
Photo booth software. You'll need software to operate the booths or to allow guests to operate the booths. This is a recurring cost, and may be monthly or annual, depending on the plan you choose.
Booking software. It's a good idea to use a booking software to ensure that the customer experience is smooth and welcoming. This is also a monthly or annual recurring cost.
Employees. If you are a one-person shop, this isn't an issue. Otherwise, you may want to bring on helpers who work on a contract basis as you need them.
Marketing Your Wedding Photo Booth Business
Everything you've done to this point is crucial for having a successful photo booth business.
Now, it's time to take your business to market.
Because I am a marketer by trade, this is the section that I often pump up as aggressively as possible, because it's how your business grows! This is the engine of your business!
However, I also have to temper my tendency to share excessive detail on each of these points.
Any single one of the tactics below is an industry unto itself.
My advice is this: pick a tactic, explore it as much as you can for one or two weeks, and then move on to the next.
I've seen too many small business owners throw up their hands in despair because they tried to execute on all the marketing tactics at once.
Go one at a time, and be thorough.
Here are those tactics:
Establish a website: Create a website that showcases your work, services, and pricing packages. Make sure the website is optimized for search engines (SEO) and mobile-friendly.
Social media marketing: Use social media platforms like Facebook, Instagram, TikTok, and Pinterest to showcase your work, engage with potential clients, and promote your services.
Email marketing: Collect email addresses from your clients and prospects and send them regular updates, promotions, and newsletters.
Content marketing: Create informative blog posts, articles, and videos that provide value to your target audience and position your business as an expert in the field.
Search engine optimization (SEO): Optimize your website and online content to rank higher in search engine results pages (SERPs) for relevant keywords and phrases.
Paid advertising: Use targeted ads on Google and social media ' mostly Facebook — to drive traffic and leads to your website.
Local business listings: List your business on Google My Business, Yelp, and other local directories to improve your visibility and search engine rankings.
Referral marketing: Encourage your satisfied clients to refer their friends and family to your business by offering them incentives or discounts.
Partner marketing: Collaborate with wedding planners, caterers, and other wedding vendors to offer bundled packages and cross-promote each other's services.
As you experiment with various marketing techniques, you may find a channel or tactic that works best for you.
When that happens, keep pushing and optimizing to ensure you get the best quality leads at the best price.
Booking and Executing a Wedding Photo Booth Event
The big day is here. I can almost hear the triumphant chords of "Bridal Chorus" by Richard Wagner.
Develop a smooth booking process that provides a seamless experience for customers.
Developing a smooth booking process is critical for any wedding photo booth business, as it ensures a seamless experience for customers and helps to streamline the entire booking process.
The simplest, most direct, and most elegant way to develop a smooth booking process is to simply purchase software.
A tool such as BoothBook or Check Cherry will save you a lot of time and hassle.
Here are some insights as you develop your booking process.
Create a booking form: Start by creating an online booking form that customers can fill out to book your services. This form should include all the necessary information such as the event date, venue, package options, and any other customizations you offer.
Simplify the booking process: Make sure the booking process is easy to understand and simple to complete. Reduce the number of steps required to complete the booking, and make it clear what the customer needs to do at each step of the process.
Use clear language: Use clear and concise language throughout the booking process, and avoid using technical jargon or complicated terms that might confuse customers. Use simple language to describe your services and pricing, and make sure your terms and conditions are easy to understand.
Provide visual aids: Use visuals such as images and videos to showcase your photo booth and its features. This will help customers get a better idea of what they can expect from your services.
Offer online payments: Provide customers with the option to make online payments to complete their booking. This can be done through a secure payment gateway, and will make the entire process faster and more convenient for customers.
Follow up with customers: Once a booking has been made, follow up with customers to confirm the details of their event and to answer any questions they may have. Provide customers with a contact person they can reach out to in case of any issues or concerns.
Prepare for each event by reviewing the event details, arriving on time, and setting up the photo booth.
The more events you run, the more you'll understand the time required to setup, interface with your customers, get on the Wifi, etc.
Preparing for a photo booth event at a wedding requires careful Here are some steps you can take to ensure that your photo booth event runs smoothly:
Review the event details: Prior to the event, review all of the details provided by the wedding planner or the couple. This includes the date, time, location, and any specific requests or requirements they may have for the photo booth.
Arrive on time: Plan to arrive at the venue early so that you have plenty of time to set up the photo booth and troubleshoot any issues that may arise. Being punctual also helps to establish a professional image and ensures that you have enough time to prepare for the event.
Set up the photo booth: Once you arrive at the venue, set up the photo booth in the designated area. Make sure that the area is clean, level, and has access to power outlets. Test all of the equipment to ensure that it is functioning properly, and make any necessary adjustments to the lighting or background.
Dress appropriately: Dress in professional attire that is appropriate for a wedding, such as a suit or dress. This helps to establish a professional image and shows that you take your business seriously. Some photo booth business owners like to have branded attire. That's fine, but a good rule of thumb is to dress at the expectations of the event attire. It's a good idea to wear a badge (or sticker) that provides your name, company, and role — e.g., "Photo Booth Operator."
Provide props and accessories: Provide a selection of props and accessories that guests can use to add some fun and creativity to their photos. This can include items such as hats, glasses, and signs with humorous phrases.
Engage with guests: Interact with guests and encourage them to use the photo booth. Offer suggestions for poses or backgrounds, and make sure that everyone has a chance to take some fun and memorable photos.
Don't forget to have fun. You are in the business of making fun and meaningful memories.
Embrace the experience, and don't be afraid to lift your head higher and smile a bit brighter.
Augmenting Your Wedding Photo Booth Business with Creative Ideas
You'll be surprised and satisfied to know that after running a handful of events, you've got this down.
You can speak wedding language.
You can read a room to determine how and when to interact with people.
You know what kind of nerves are getting jangled on wedding day.
You've learned what problems tend to crop up most often and how to troubleshoot with ease.
You're a pro with the photo booth software and know exactly which templates to use for each event.
Whizz. Bang. Pow. Look at you.
And maybe you have some ideas for how to add a little extra pizzazz to your wedding photo booth business.
When it's time to level up, here are some ideas.
Green Screen Technology: Use green screen technology to place guests in front of various backgrounds, such as a beach, city skyline, or a fantasy landscape. This adds an extra layer of fun and creativity to the photo booth experience.
Slow-motion video booth: Set up a slow-motion video booth that captures guests doing a variety of fun and silly activities. This is a great way to create entertaining and memorable videos for the couple to enjoy.
Social media integration: Allow guests to share their photos and videos directly to social media platforms such as Instagram or Facebook. This encourages guests to share their experience with their followers and can help to promote your business.
Boomerang Booth: Set up a Boomerang booth that creates short looping videos of guests dancing, jumping, or doing other fun activities.
Augmented Reality Booth: Incorporate augmented reality elements into the photo booth experience. This can include virtual props or animations that are added to the photos or videos.
360-Degree Booth: Set up a 360-degree booth that captures guests from all angles. This creates a unique and immersive experience that guests will love.
Animated GIFs: Create animated GIFs from the photos or videos taken at the booth. These can be easily shared on social media platforms and are a fun way to capture the memories of the event.
Photo printing on site: If you have our Guac & Chips photo booth, providing on-site printing services so that guests can take home their photos as soon as they are taken. This is a great way to provide instant gratification and create a lasting memory.
Create a Video Confessional Booth. Using Salsa's video mode, you can use your photo booth as a confessional booth that allows guests to share video messages with the bride and groom.
I've only provided nine ideas here, but there are a ridiculous amount of options. The more you interact with our photo booth software, too, the better you'll be able to come up with creative ideas on the fly — even at an event!
Let us know what you've got. Or keep it a secret. It's your photo booth business, and you deserve to be wildly successful.
Happily Ever After to Your Wedding Photo Booth Business
Every couple wants their wedding day to be special, and by providing a unique and entertaining photo booth experience, you can help make their day even more memorable. Be sure to listen to their needs, and go the extra mile to exceed their expectations.
As you begin to establish your business, don't be afraid to try new ideas and experiment with different marketing strategies to build your client base.
Stay active on social media, attend wedding expos, and network with other wedding vendors to expand your reach.
Most importantly, believe in yourself and your business. Your passion, dedication, and hard work will pay off, and you will become the go-to wedding photo booth business in your community.
So, take that first step towards making your dream a reality.
We believe in you and wish you all the success in the world. Let's create some unforgettable memories together!