Photo booth templates are one of the core components of a successful photo booth business.
Photo booth templates allow guests to take multiple photos and place them into one beautiful template. Users can choose from different shapes, sizes, and backgrounds an to make them personalized.
This article provides advanced insight into using photo booth templates to the maximum advantage in order to grow and sustain your successful photo booth business.
After reading this article, you should:
Possess an advanced understanding of using photo templates and how they can contribute to the growth of your photo booth business.
Understand how to market photo templates to potential customers in order to make your proposal irresistible.
Be able to answer a customer's or guest's question about photo booth templates.
Let's get it.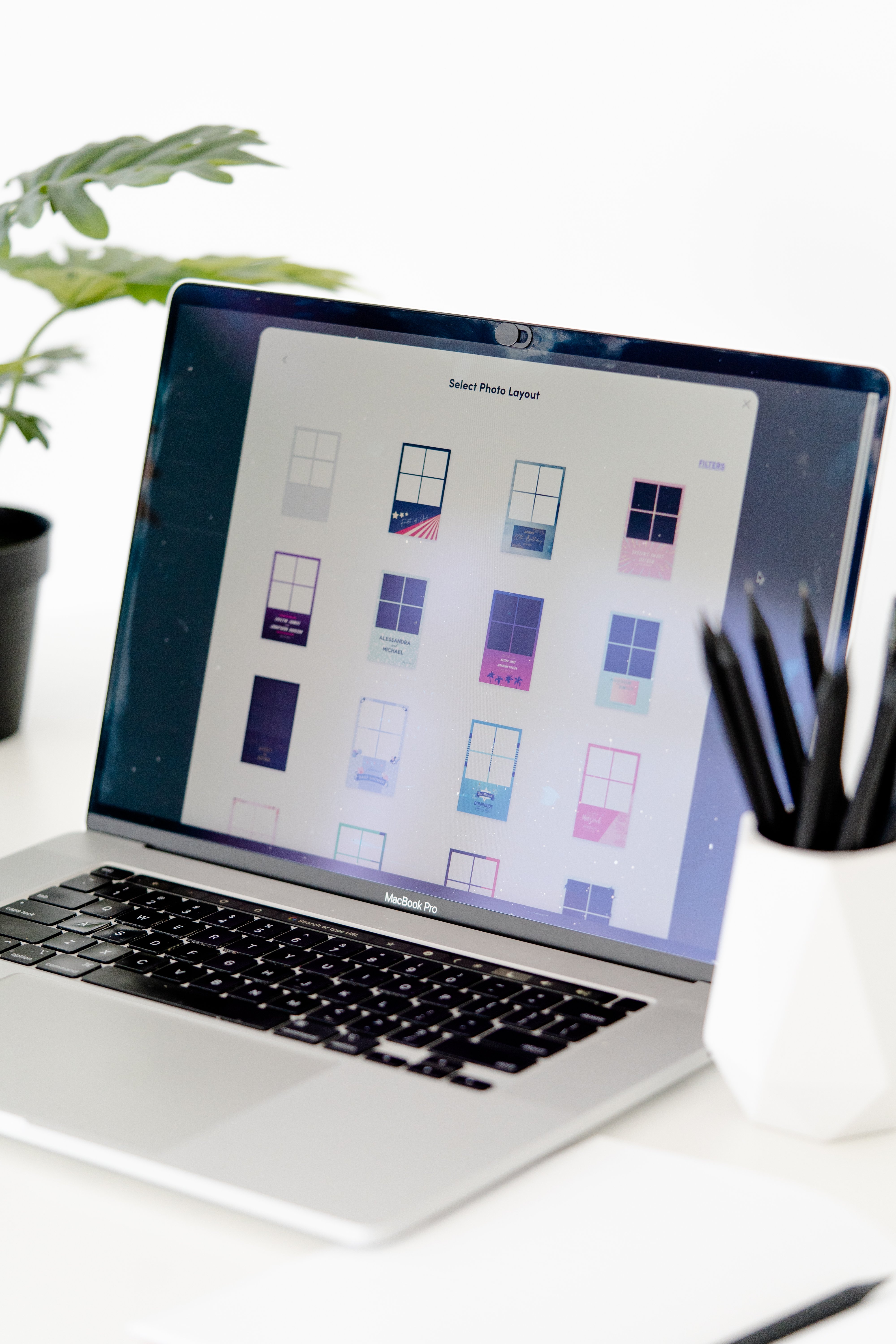 Photo Booth Templates: Quick Reminder
So we're starting with the same understanding, let's clarify what we are referring to when we talk about photo booth templates.
What are photo booth templates?
Photo booth templates are basically pre-designed frames that you can use for your photos when you're using a photo booth.
So instead of just taking a regular 4x6 photo for example, you can choose a template that adds some extra flair and design to your picture.
These templates might have borders, graphics, or text that can make your photos more personalized and fun.
Think of them like virtual stickers or frames that you can put on your photos to make them stand out and provide even more impact.
What You'll Need for Photo Booth Templates
Most of the discussion below centers on printed photos.
For printed photos, you will obviously need to use the Guac & Chips — the iPad-powered DSLR photo booth and printer from PBSCO.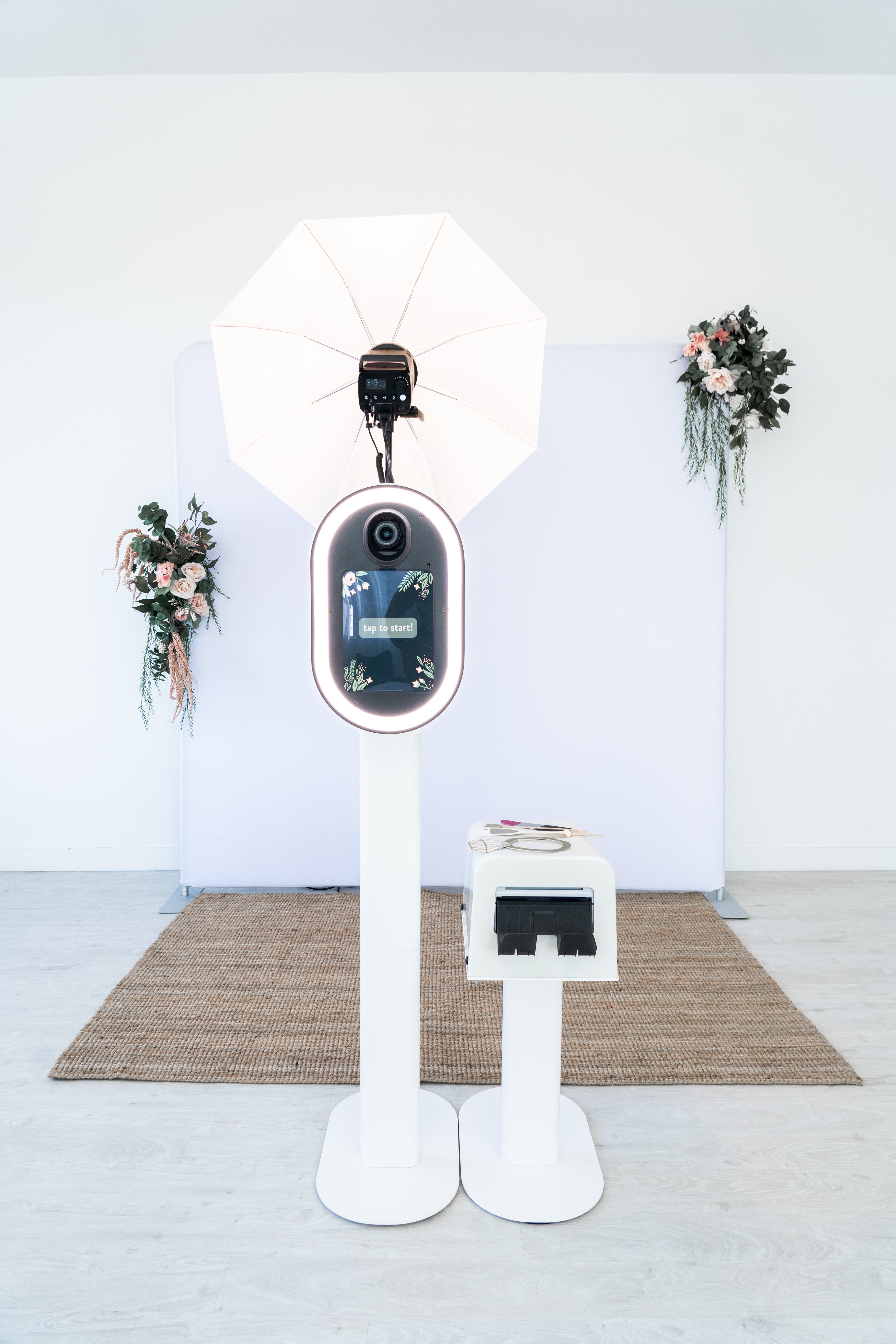 Of course, you can also use template for digital images as well. You can use the Salsa and our software to create those.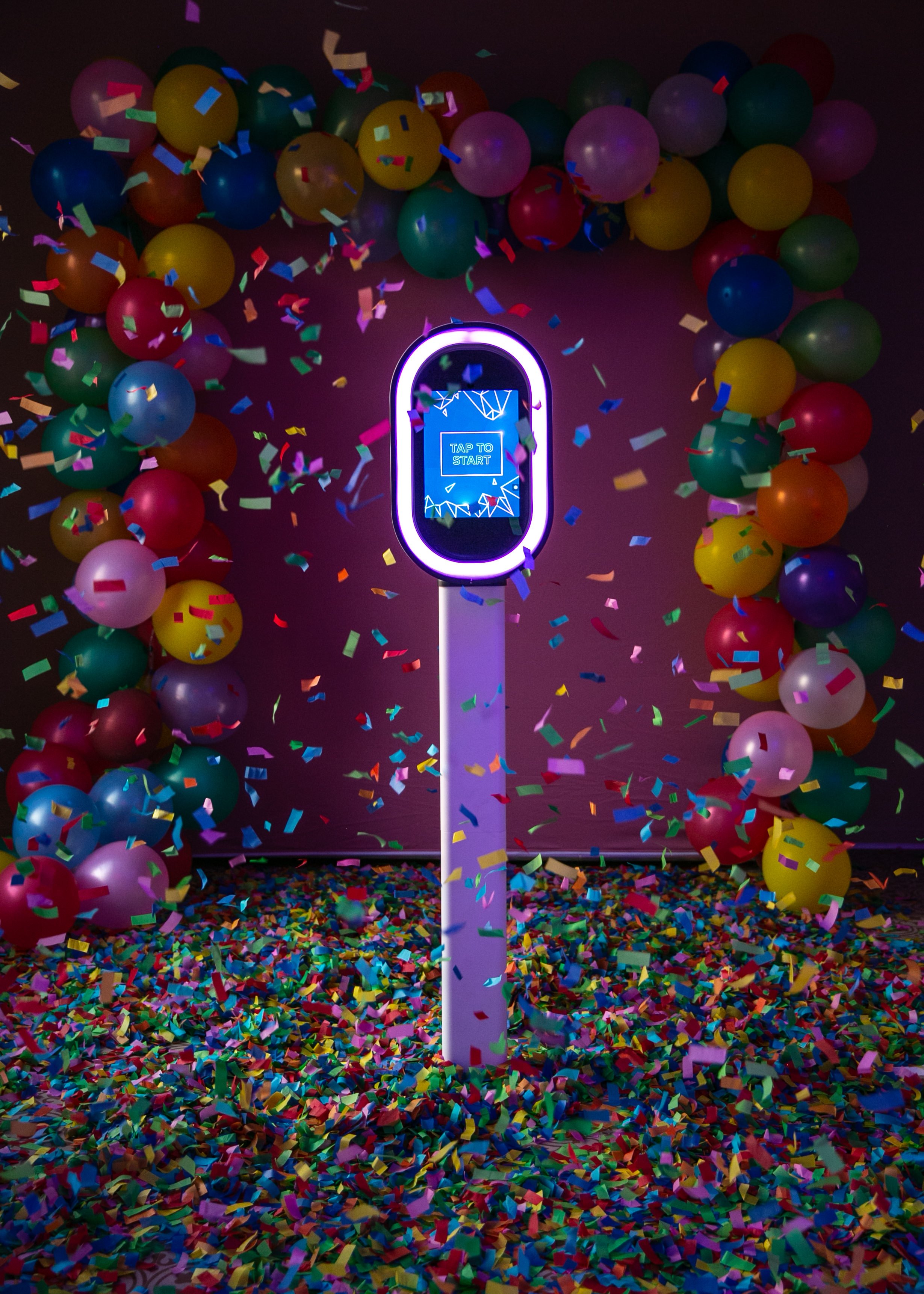 Why Are Photo Booth Templates Important?
When a guest takes a printed photo from their photo booth, it is the embodiment and physical memory of the event.
You are a memory creator. Templates for the guests's photos make the experience more enjoyable and memorable.
By offering a variety of templates with different themes and designs, you can give customers more options to choose from and allow them to express their creativity and personality in their photos.
This can also make your photo booth stand out from competitors who may not offer as many customization options.
Having a variety of templates can also help to attract more customers, as they may be more likely to choose your photo booth over others if they know they can get unique and personalized photos.
Additionally, if customers share their photos on social media or with friends and family, the templates can help to promote your business and increase visibility.
Overall, photo booth templates can add value to your business and enhance the customer experience, which can ultimately lead to more business and higher customer satisfaction.
That photo that a guest took with your photo booth may be placed onto a refrigerator, and stay there for years. Some guests like to frame their photo booth printouts and place them on a desk or wall in their home. They live there, often for a long time, further imprinting that memory and experience into the guest's mind.
You are in the business of creating and preserving beautiful memories, and the photo booth templates that you provide have a big role in what those memories look like.
As a photo booth business owner, you should be able to provide a memorable and fulfilling experience — even when it comes to the photo booth templates.
Using Photo Booth Templates to Grow Your Photo Booth Business
In this section, I'm going to share five separate strategies that allow you to leverage photo booth templates for a stronger and more robust presence in your industry.
1. Offer a Variety of Photo Booth Templates for Your Customers to Choose From
When it comes to designing templates, it's best to stick to just a few options for your customers to choose from.
Customers have different tastes and preferences when it comes to design and style, so it's important to offer a range of templates that cater to different themes and trends.
For example, you could create templates for different holidays, seasons, or popular memes.
That being said, there's a case to be made for exercising restraint with your options. For one, there's the peril of decision paralysis.
If you have dozens or hundreds of templates, some customers may not be able to make a decision, and end up making no decision at all.
Additionally, you want to allow your brand to be defined by a specific style. Let me explain.
2. Stick with a Specific Visual Style for Your Photo Booth Templates
Your business's branding is important, so consider using a consistent theme and colors, etc., in your templates.
The goal here is brand recognition.
By sticking with a visual theme in your photo booth templates, you make your templates unique and distinguishable from others.
This doesn't mean you have only four templates that you offer customers. What it does suggest is that you use, say, a minimalist style or a black-and-white only vibe.
Additionally, you may have discovered the value of becoming a niche photo booth business. For example, you are the premier, go-to, absolute best photo booth business in your community for black and white photo booth.
Naturally, then, all of your photo booth templates have that spring wedding flair.
That's how it's done. And thus, you are situating yourself even more profoundly in your niche.
Make Your Photo Booth Templates Easy To Use
This is a given, but it's easy to overlook. This is especially the case, if you are familiar with your photo booth event interface, but this is a guest's first time using a photo booth and they don't know how it works or what to do.
Templates should be easy to use for customers.
Provide clear instructions and make sure the templates are accessible and intuitive to use. This will help customers easily select and apply the template on the photo booth interface.
If you are using Salsa for your photo booth software, this shouldn't be a problem.
Plus, should you need a refresher on creating a photo booth template, using the template editor, adding a custom photo template background, or anything else, we have full guides on all of that.
3. Allow for Customization (With Guardrails)
Although templates are pre-designed, allowing customers to customize certain elements can add an extra layer of personalization and creativity.
Consider allowing customers to add text or adjust colors to make their photos truly unique.
This can also help promote your business, as customers are more likely to share photos that they feel are personalized to them.
Obviously, keep it simple. Stick with limited options in order to allow guests to move through the options quickly.
This is photo booth templates, not Photoshop, so help restrain those extra-creative souls who may want to push the boundaries of customization.
4. Use Your Photo Booth Templates as Customer-Generated Marketing Materials
Encourage customers to share their photos on social media and tag your business.
This can help to promote your business and increase visibility, as well as showcase the variety of templates you offer.
Be sure to provide clear instructions on how to share and tag the photos.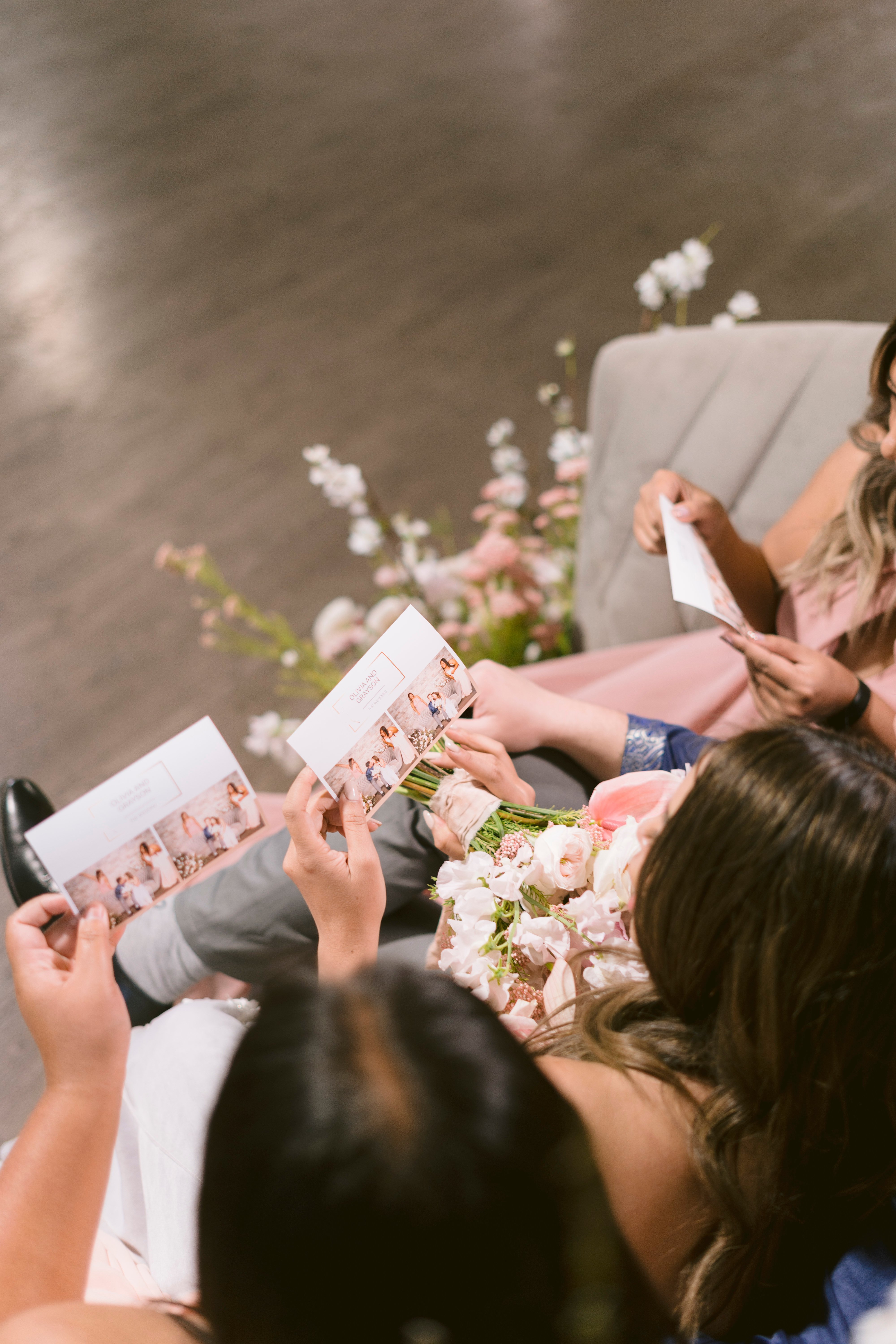 5. Analyze Your Photo Booth Template Data
Want truth?
Look at the numbers.
Collect data on which templates are most popular or generate the most social media shares.
Use this information to inform future template designs and updates to maximize customer engagement.
This can also help you to stay ahead of trends and create templates that will resonate with your customers.
Data has such power that you can also use it to tell your customers. If they are skeptical about which sets of templates to use, you can mention, "The majority of our customers choose this collection. In fact, last year, 85% of all customers went with this. I think it's a strong choice."
Power in the numbers, right?
By using a variety of templates, incorporating branding elements, making templates easy to use and customize, using templates as a marketing tool, and analyzing data to inform future designs, you can create a better customer experience and promote your business.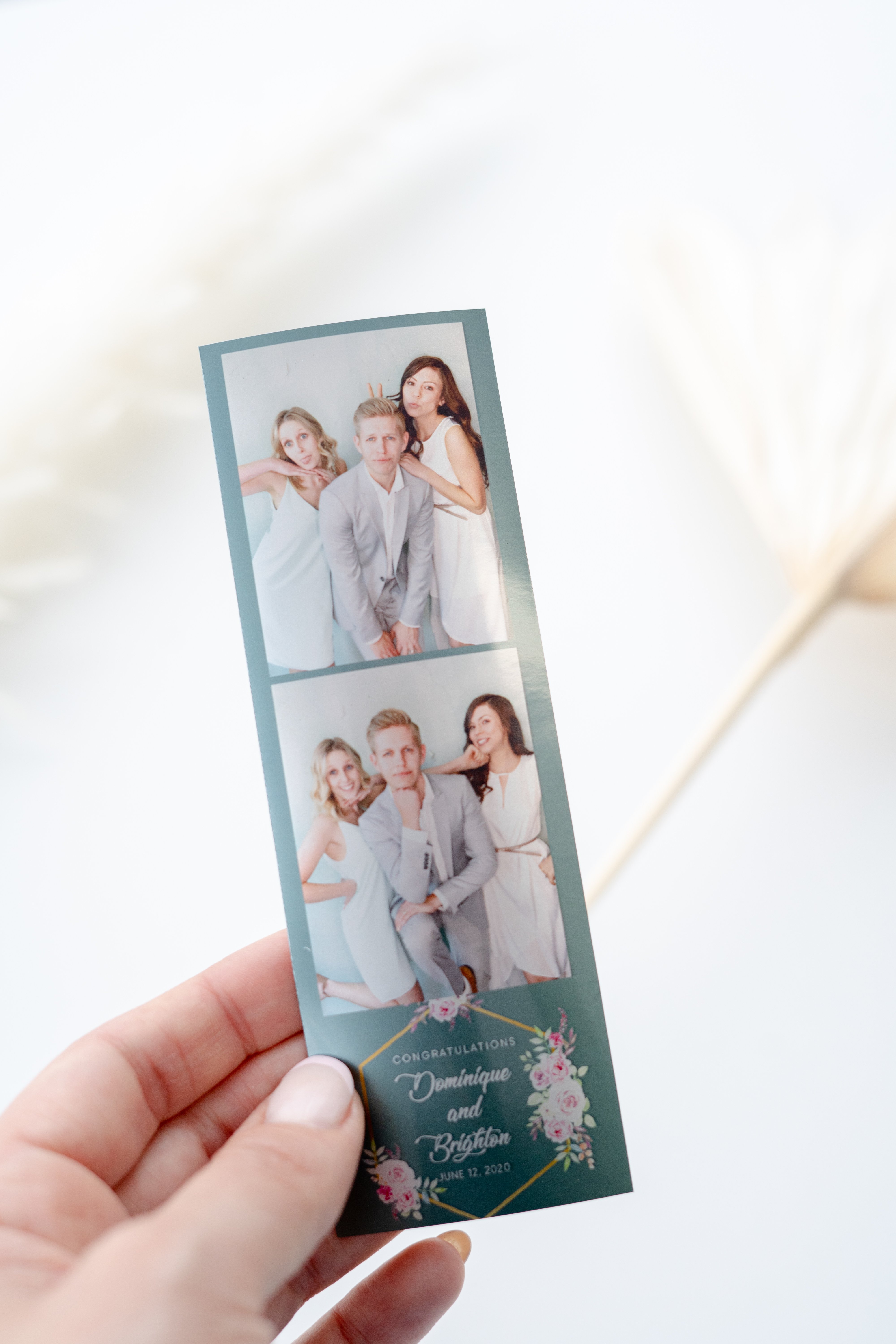 How to Market Photo Templates to Make Your Proposal Irresistible
Be a show off.
When it comes to marketing your photo booth business, your templates can speak for themselves, making your proposal stand out from the competition.
Obviously, you don't want to be arrogant and obvious about it, so here are the tactics that I suggest for marketing your photo booth templates.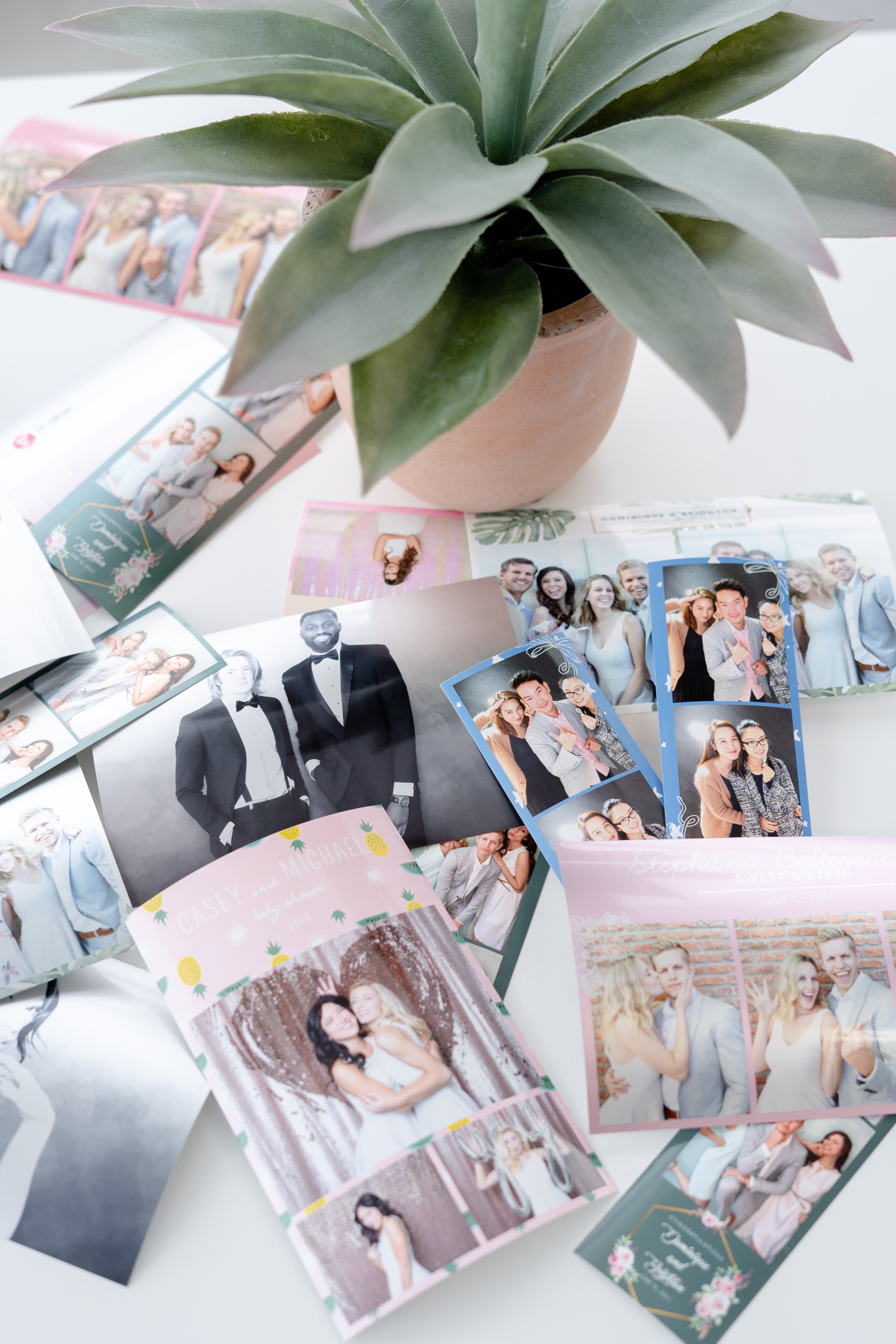 1. Create a Themed Collection of Photo Templates
Consider creating a collection of templates that are all centered around a certain theme.
This could be something like a holiday collection or a collection based on popular TV shows or movies.
By offering a collection of templates, customers can choose from a range of designs that are all connected by a common theme, which can make the experience more immersive and enjoyable.
2. Offer Exclusive Templates
Create a set of templates that are exclusive to the customer's event.
This could be templates that are branded with your customer's event colors or hashtags, or templates that are not available anywhere else.
By offering exclusive templates, customers can feel like they are getting something special that they can't get elsewhere, which can make them more likely to choose your photo booth.
Imagine, if you were a customer, and you opened up a photo booth proposal, and it had your event colors and even the wedding hashtag!
Sometimes, it's worth going the extra mile to make sure that you put a smile on your customer's face and virtually guarantee that they will sign your proposal.
3. Create a Viral Challenge for Your Photo Templates
Consider creating a viral challenge that is centered around your photo templates.
This could be something like a challenge that encourages customers to use a specific template and share their photos on social media with a specific hashtag.
By creating a viral challenge, you can generate buzz around your templates and attract more customers to your photo booth.
One idea that may work is to create a competition between two or more templates, letting your audience pick the winner.
Hey, it doesn't need to be the next Blue Dress that broke the Internet, but it can spawn some fun and interaction.
4. Showcase Customer Photos
Share photos that customers have taken using your templates on social media or on your website.
This can help potential customers visualize what they can create with your templates and can make them more likely to choose your photo booth.
Look, we do this all the time and we absolutely love it. Our Instagram stories are packed with the exciting events, ideas, energy, and action that you, photo booth owners are generating.
If you tag PBSCO in your Instagram stories, you can bet that we will see them and maybe post them!
Take it from us. We've seen power in this tactic.
And, yes, it can serve your business as well. When you share your customer's glitzy photo using a template, ahem, you created, you spread the love to them and to you, giving you more credibility and appeal among your audience.
5. Demonstrate Photo Booth Template Customization Options
If there's something we discovered in the photo booth business, and it's probably just human nature — people love options, and people love customization.
Show potential customers how they can customize your templates by creating a tutorial video or by demonstrating the customization options in-person.
This can help customers see how easy it is to create personalized photos with your templates and can make them more likely to choose your photo booth.
Answering a Customer's Questions About Photo Booth Templates
The most effective way to become the wizard of photo booth template knowledge is through experience.
Much of the time, those questions might be technical in nature. For example, how easy is it to add text or rearrange an art asset on the photo booth template.
Those questions are photo booth software specific.
Thankfully, we have answered all of those questions in our Photo Template Editor guide.
To get the details on how to use Salsa's powerful photo template editor, jump into the quick start video, and then explore the many options for creating and editing beautiful photo templates.
I guarantee you, we have answered all your questions (and more) on this page.
Photo Booth Templates and Ridiculously Delicious Memories
It's your turn.
Take your photo booth business to the next level by using templates that give your customers and guests the gift of unforgettable experiences.
These things work. I have a very simple 4x6 photo sitting on my mantelpiece at home.
It's a picture of Brendan, Caitlin, and me at the Photo Booth Expo in Las Vegas earlier this year.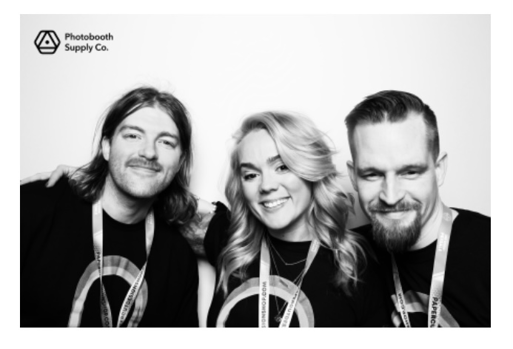 I hang on to stuff like this, because it generates real feeling — "Wow, we had a great time and made memories!"
Now, take your photo template creativity and do the same for your customers and their guests!