---

Picking a great backdrop stand is integral for any photobooth business. You want something that is easily transportable, is built well, easy to set up, not a tripping hazard, and beautiful looking.
Below we will review a few of our favorite backdrops in the market and rate them.
THE PROS
The PXB Portable frame is one of the most unique backdrop stands out there because of it's proprietary fabric backdrops. The backdrops on each corner have a pocket, which are held together by the X-Frame laying upon a single tripod stand. Since there is tension, it relieves the backdrop of any wrinkles that it may have. It also makes for easy steaming!
Because the tripod stand is behind the stand, it makes it nearly impossible for guests to trip over it. This makes it this one of the safest backdrop stands out there if placed up against a wall.
THE CONS
Because of its proprietary backdrop stand, there is little choice for colors and variety, but if you're just looking for a solid color this is the way to go!
It also requires an entire 8' x 8' area dedicated to setup the X-Stand. Most times I've found it a struggle to find an area that large. With that said, it is an easy one person setup.
Because it's only held up by one light stand, it's very easy for it to fall over because it's so top heavy. This makes it virtually impossible to use outdoors without the use of several sandbags.
While we were going to give this a 5 for aethstics, we will take out two points due to it's inability to take any other backdrop except for its own.
Portability (4/5)
Build Quality (4/5)
Ease of Setup (2/5)
Tripping Hazard (4/5)
Aesthetics (3/5)
Price (3/5)
Overall Score: 3.5
THE PROS
The PBL Backdrop is your traditional photography backdrop stand that has a cross bar sitting on two air cushioned tripod stands. The air cushions are important so that the backdrop doesn't free fall when taking it apart.
The crossbar consists of two telescopic bars that can extend anywhere from 6-12ft, making it ideal for any type of backdrop. We particularly enjoy the fact that it goes up to 12ft when most backdrops only go 10ft. This is because it pushes the tripod stand further away from the subjects to avoid tripping.
Everything breaks down quite easily to fit into a bag and the build quality is quite decent for the price.
THE CONS
While it's entirely possible to set up with one person, it's tremendously easier with two. This is noticeable when you have to extend the backdrop up the stand. With one person it can be a monotonous process going back and forth, increasing each stand inches at a time until it reaches maximum height.
The two tripod stands on either side of the unit pose a huge tripping hazard. If guests aren't careful, the entire backdrop could be thrown over or someone could get injured. Again, this is why we enjoy the 12ft crossbar, which pushes them further away on the sides.
The stand is a far cry from winning a design award. The tripod stands on the side aren't the most visually appealing. Much of the hardware on the top sides are visible as well, unlike the X-Stand which hides virtually all of the hardware.
Portability (5/5)
Build Quality (4/5)
Ease of Setup (3/5)
Tripping Hazard (3/5)
Aesthetics (4/5)
Price (5/5)
Overall Score: 4
THE PROS
There are dozens of stands that are similar to the PBL, but one shine above them all - The Manfrotto 1314B. This is the Rolls Royce of traditional backdrop stands, and the price reflects that fact.
Functionally, it's identical the the PBL, except there are small bells and whistles that make this stand a real knockout. The build quality, bag, and other premium features is what makes this stand out.
It also includes clamps, which is great for seamless backdrops or any type of fabric that doesn't have a hanging loop.
THE CONS
Many of the cons are identical to the PBL backdrop stand since they are of the same quality.
In addition to the cons, the cross bar in this model only extends up to a little over 9 feet, which brings the tripod legs closer to the guests and increasing their ability to be a tripping hazard.
For a start up, the price is obviously a concern as well. Since this and the PBL perform similarly, we would recommend starting off with the latter and spend more of that money towards props or backdrops.
Portability (4/5)
Build Quality (5/5)
Ease of Setup (3/5)
Tripping Hazard (2/5)
Aesthetics (2/5)
Price (2/5)
Overall Score: 3
THE PROS
Pipe and drapes have traditionally been used as a way to dress up the walls of venues or red carpets. They are known for their stability and studiness, which is important when you're decorating 20ft walls of a banquet hall!
Photobooths owners are now using them for their own backdrops for the reasons above. The base plates are flat and heavy, which lowers the center of gravity in addition to preventing any tripping hazards.
The crossbar on top can extend anywhere from 6' to 10' wide, which can fit virtually any photobooth backdrop.
THE CONS
The 10lb base plates of the pipe and drape are this options blessing and its curse. While they work great when they're in place, getting them there proves to be a different story. Each individual base plate weighs 10lbs which is equal to all of the stands and bars combined together of the PBL system. Needless to say, they are heavy.
To make things worse, this is the only backdrop stand that does not come with a carrying case. This makes operations incredibly difficult when setting up and breaking down for an event.
The upright poles consist of two 4' poles that connect together for a total of 8'. This is the only backdrop stand that does not have a telescoping option, which makes it more difficult to set up. In addition to that, many vehicles and bags may not have room for a 4' pole.
Portability (1/5)
Build Quality (4/5)
Ease of Setup (2/5)
Tripping Hazard (5/5)
Aesthetics (4/5)
Price (3/5)
Overall Score: 3.16
With it's price point, build quality, portability, and abilty to use virtually any backdrop, the PBL is our favorite choice here at Photobooth Supply Co.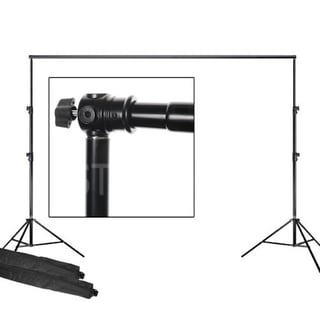 -------------------------------------------------------------
Find out if a photo booth is the right fit for your business in a FREE one-on-one strategy session!